Product Description
Auto Reply for WhatsApp – WhatsApp Autoresponder
NO ADS – FULL-FEATURED (30+ features) TRIAL

CONSIDER! (for almost the same price) Call / SMS Auto Reply App – AUTO REPLY TO WHATSAPP + Missed Calls, Incoming Texts, Signal, Telegram, Facebook, + 10 more Messengers
Main Features of WhatsApp Auto Reply App
✔Setup multiple profiles for WhatsApp Autoresponder (one for driving / sleeping / meeting etc.)
✔Add unlimited new or customize existing whatsapp reply messages
✔ You can send automatic reply using WhatsApp native emoji set + 157 new emojis
I 🚶 out, will 📞you back at 🕒
✔Personalized list – automatically reply with personal messages for certain people, while others getting generic reply
✔Don't Reply list – do not response to messages of people you don't want to reply to
✔Reply only to personalized list – auto response only to one or few contacts / phone numbers
✔Automatic scheduler for Auto Reply for WhatsApp
• by time
• by date
• by week days
✔Manual status – set default WhatsApp Autoresponder and turn it on/off manually
✔Reply ONLY to your CONTACTS or NON CONTACTS or both
✔Reply only to personalized list
✔Auto reply for WhatsApp Groups
✔TTS – Text to speech service for incoming messages
• Read out incoming messages aloud\n when they arrive
• Adjust Reading speed
• Read incoming messages without reply
✔More reply rules
• Send only one whatsapp response to the same phone number / contact, when auto reply for WhatsApp is ON
• Set delay for auto reply for whatsapp, to second message from the same phone number.
• Or reply continuously to the same phone number / contact
✔Automated reply to WhatsApp messages works with contacts, groups and unknown numbers
✔You can personalize your outgoing automatic message with tag names – Hi {First Name}, I will meet you at ….
✔Back up your configuration and settings to Google Drive. You can restore them when you REINSTALL whatsapp response app.
✔An app will turn ON and OFF automatically according to schedule you have set
✔An app uses virtually no battery power, CPU time and RAM
✔Widget
Auto Reply for WhatsApp Web
Even if you have, WhatsApp Web opened on your computer; you can turn WhatsApp bot or Autoresponder for WhatsApp Business on and leave it running on your phone. As long as notifications appear in the notification bar, WhatsApp bot will work as usual and auto reply according to your settings.
Auto Reply with MMS
MMS ARE NOT SUPPORTED by Autoresponder WhatsApp bot, so images, videos, audio, and other media files cannot be sent.
Auto reply to WhatsApp Calls
WhatsApp Autoresponder app CANNOT REPLY to WhatsApp calls, since WhatsApp do not show calls notifications.
You can customize WhatsApp auto reply bot to suit your needs with different available settings.
Autoresponder WhatsApp bot reply to personal or group chat / conversation
All replied notifications are deleted from the notification tray. All unanswered messages for WhatsApp will stay for your attention. You can see status of all messages in the app's Sent Messages Report. Press on the entry to see detailed reports with recipients name or phone number.
Easily set automatic replies messages on your phone for any occasion and don't be disturbed any more when you're busy or away. It is important especially to reply ASAP requests
This app have no affiliation with WhatsApp Inc.
WhatsApp is a trademark of WhatsApp INC
See also Unique SMS Marketing Auto Reply App
How Auto Reply for WhatsApp Works
ADD your own Auto Reply message or Edit an existing one.
SET TIME – choose the appropriate Auto Reply from the list and set time to activate it or run it manually.
TURN ON – on the "Auto Replies" screen choose the appropriate Auto Reply from the list and turn it on
How to Add (Configure) WhatsApp Auto Reply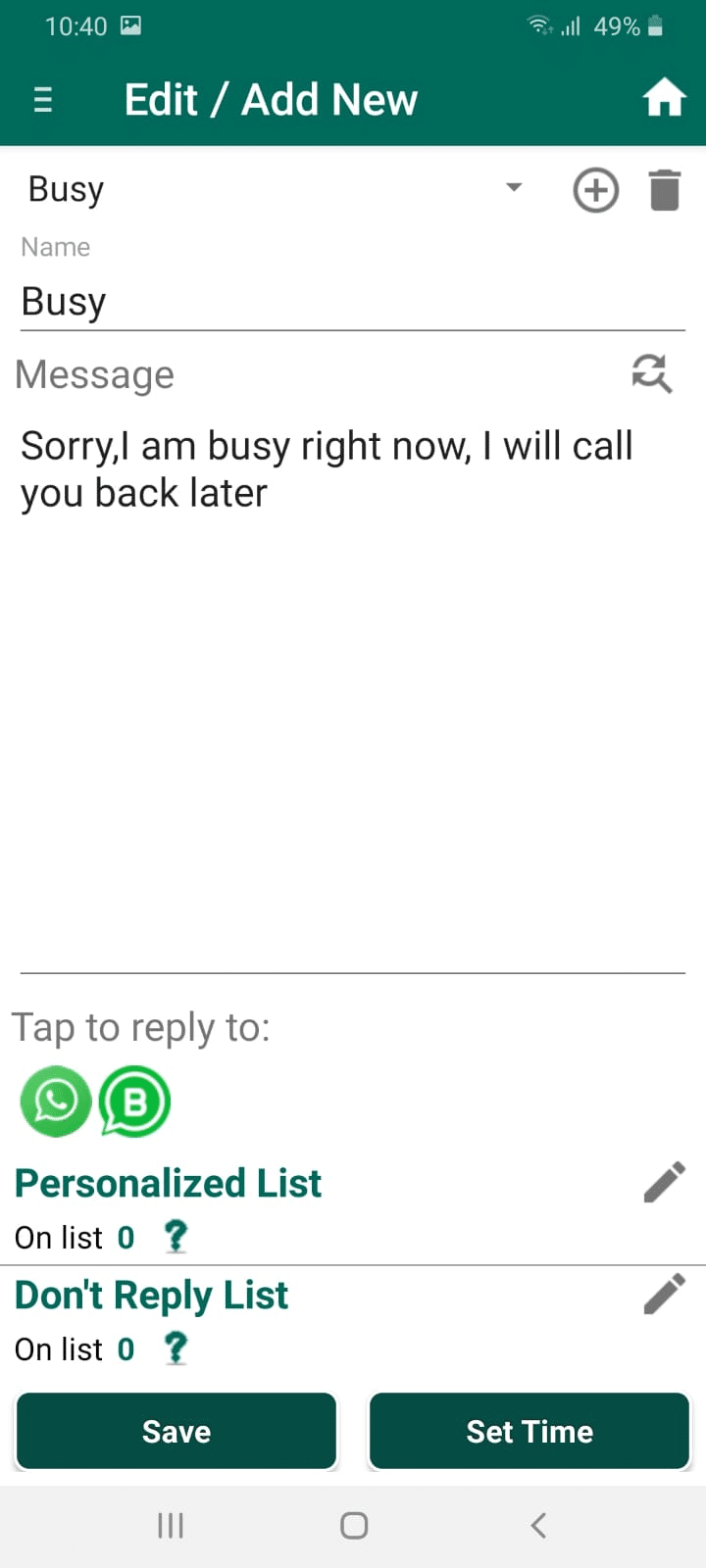 Add your own Auto Reply message (press "+" icon and give it a name) or Edit an existing one.
Add your auto reply message
Add contacts or phone numbers to "Do not reply" and "Personalized" lists.
Personalized List: a list of people whom you want to reply with personal message.
Don't Reply List: – a list of phone numbers you don't want to auto reply to
Chose auto reply channel: WhatsApp or WhatsApp Business or both
Tap Save button
How to Set Time for WhatsApp Auto Reply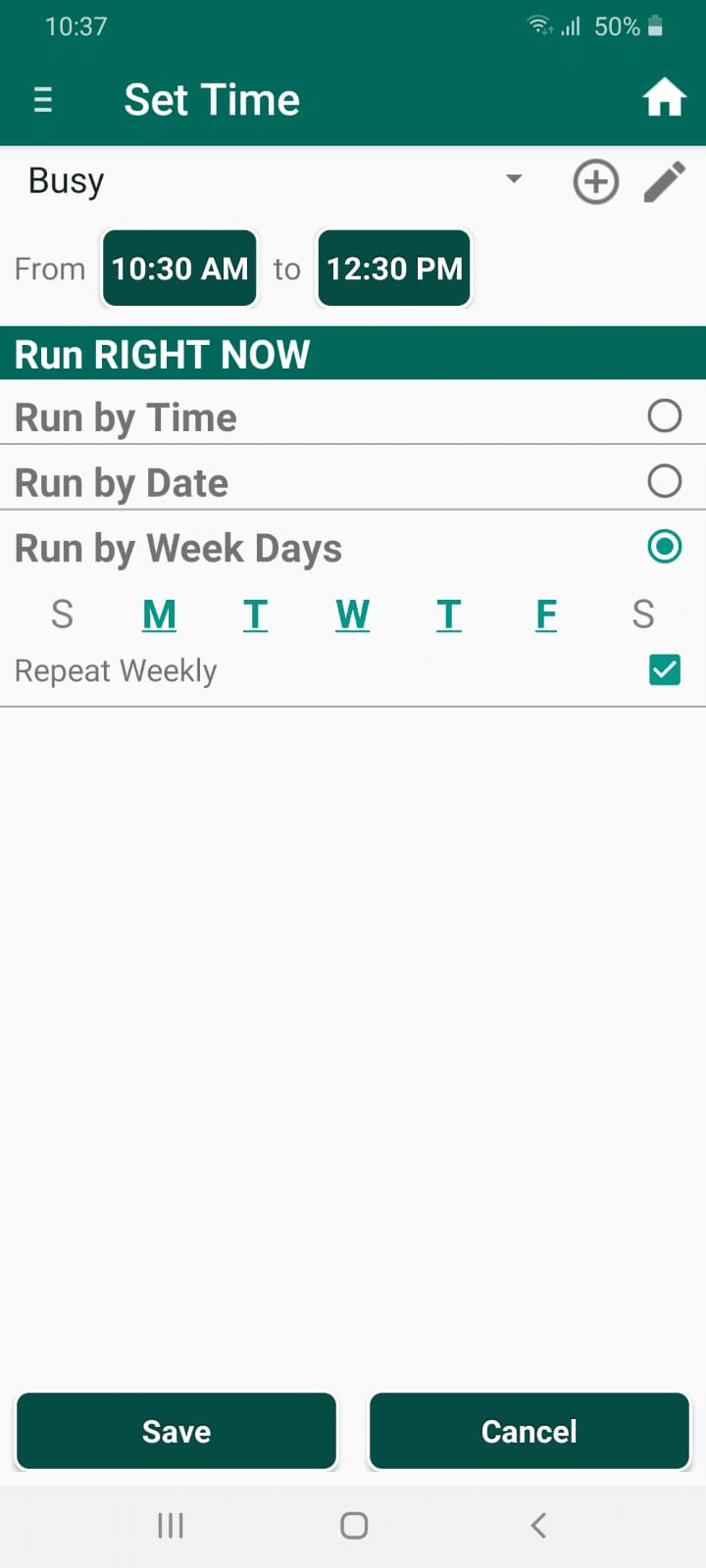 Choose an appropriate Auto Reply from the list.
Run auto Reply by Time, once you need it today
Run auto Reply by Time + Week Days, once you need it at the certain period on the workdays or on weekend.
Run auto Reply by Time + Date, once you on vacation. Holidays etc.
On the Auto Replies Screen, you can also run auto reply manually without defining time.
Turning Auto Reply for WhatsApp ON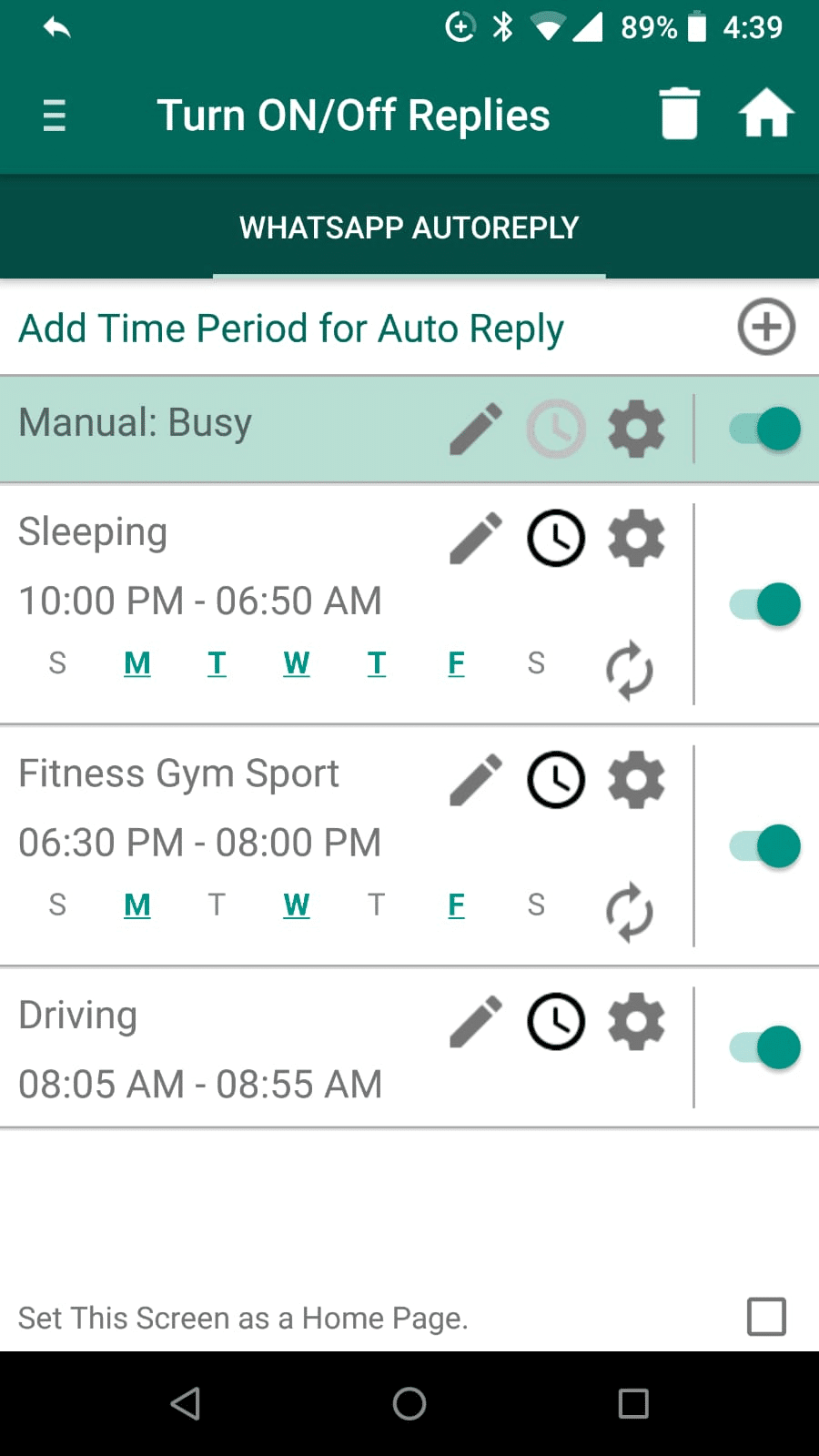 Choose the appropriate Auto Reply from the list and TURN it ON, using the button to the right of auto reply
A button changes to dark green once auto reply is turned on. Now, it is waiting to the set time, in order to start running
Once Auto Reply is start running, background changes to light green