Unbeatable Apps Bundle for Real Estate SMS Marketing – Extremely Affordable and Effective
Cost: Less than a cup of coffee a day

Time To Set Up: Less than 5 min to run 1st campaign – Free Trial

Works for you 24/7: – Save Your Time and Money
Missed Calls, SMS Auto Reply App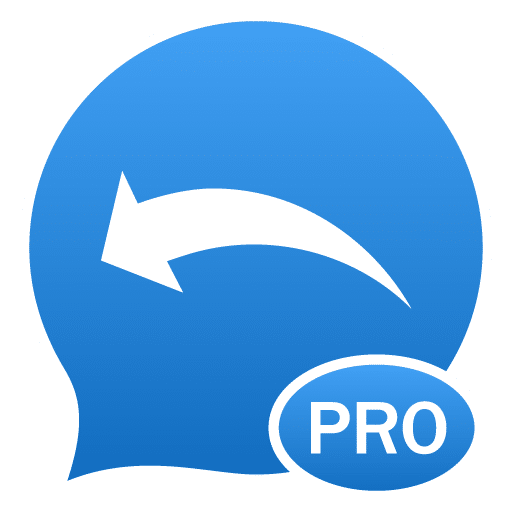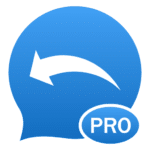 AutoResponder Android  app, replying to
missed calls,
incoming texts
Facebook, WhatsApp, Signal +10 more channels,
auto response to potential clients to let them know your normal working hours + offer list of keywords they could text you in order to get additional info, instead of them feeling neglected.
Example:
 Hi, we are closed until Monday, 9:00. Text: # list – to get available properties, # Property ID – to get detailed info, # Open – to get Open House date
Real Estate SMS Marketing Autoresponder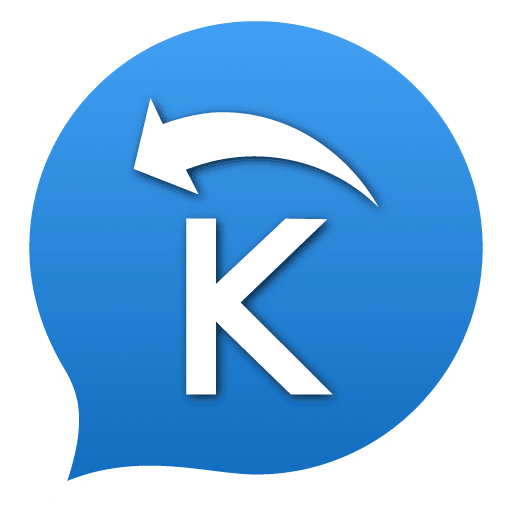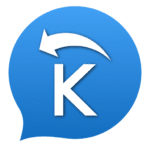 Real Estate SMS Marketing Android  app,
Auto Reply to Leads
Handle enquiries for your listings
Answer frequently asked questions,
send promotional information to the customer's phone + capture lead's mobile numbers. Responds to an Inquiries 24/7
Example keywords:
# Tour – to get link to property virtual tour
# Show – to get link to digital show
# Open – to get Open House date
BUNDLE OF AUTO-RESPONDER APPS CLOSE THE LEAKAGE IN YOUR SALES CYCLE!
Real Estate SMS Marketing Automation
Ready to Start with Real Estate SMS Marketing and Sales Automation?
62% of all homebuyers prefer to get Property Info via Text Message Marketing.
Clients who request property information at the late evening (when you are eating) on weekend (when you are in the pool with your family) or even on Holidays well deserve immediate response!
A DELAYED RESPONSE MAY LEAD TO THE DEAL DEAD-:(
Reply Instantly To Leads with Preset Text Messages
Many real estate agents are unable to respond immediately to customer inquiries.
With Keyword based Real Estate Text Marketing  Autoresponder App, you can preset unlimited keywords with unlimited auto replies
Auto reply messages can contain information you would like customers / potential clients to explore before you are available for a face-to-face conversation.
Keyword-based SMS Marketing AutoResponder automatically reply to requests submitted by your customers, allow you Provide Information to Clients and Leads, Instantly and on Demand
Reply with
Property Details
Link for an In-Depth Tour of the Property
Scheduled Showing
Property Listings
Property Profile, Size and Price
List of Documents to Fill In
Ways to obtaining a loan to buy a property
Ways to finance the purchase.
Answer Common Questions
Take back your Evenings and Weekends!
Real Estate SMS Marketing has become very popular just because it's quick, easy and with close to zero cost!
LET AN APP DO THE WORK FOR YOU!
PROPERTY MANAGER USE CASE
Keyword based Autoresponder for Real Estate Text Message Marketing
Collect leads:  user's phone number + user's interest, in order to follow up further with appropriate information.
Reply with Properties Details to Interested Buyers
Set up property ID as a keyword, for users to send in order to get more details
Once users text you this keyword (property ID) the app will instantly reply with short property info such as
Basic property details e.g.,
property size,
square footage,
location
number of bad rooms
number of bathrooms
+ Link to detailed property description
A property description may include
The property style,
The neighborhood,
Nearby attractions,
Recent renovations,
Surrounding environment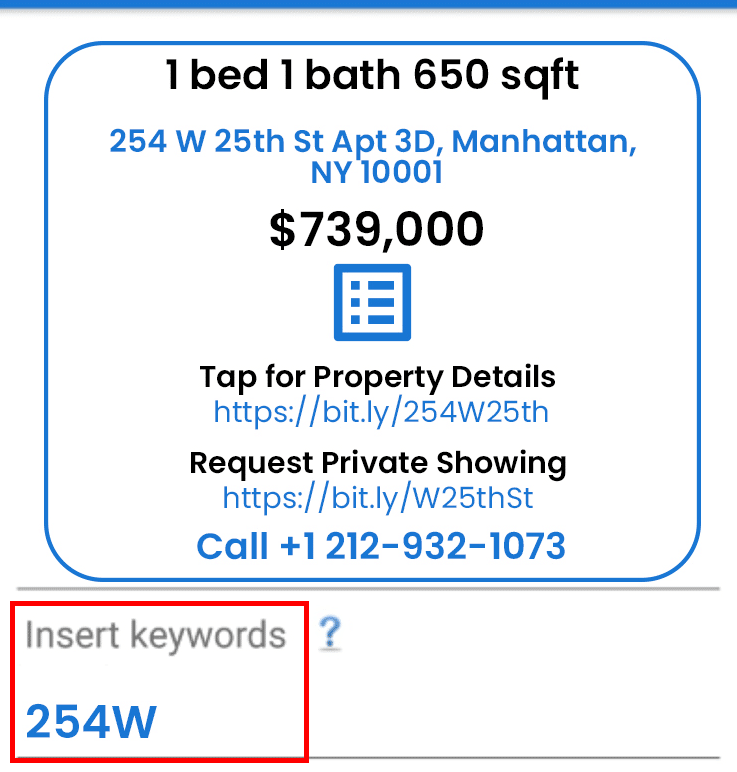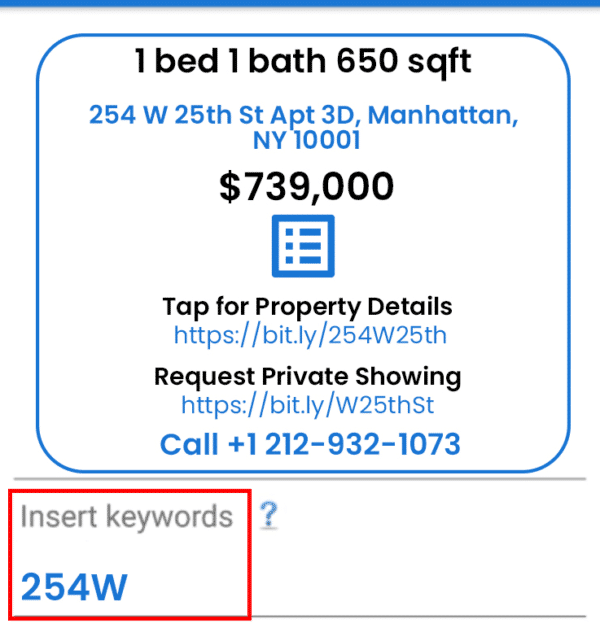 Offer Properties Virtual Tour, Photo Gallery, Show
At the end of your reply, you can add additional keywords to be sent in order to get more info
Such as
# Photos – to get link to property photo gallery *
# Tour – to get link to property 3D virtual tour **
# Show – to get link to digital show ***
# Open – to get Open House date
# Private –  to get  link to Google Calendar to schedule personal one –to- one show
Let potential buyers to see and feel a space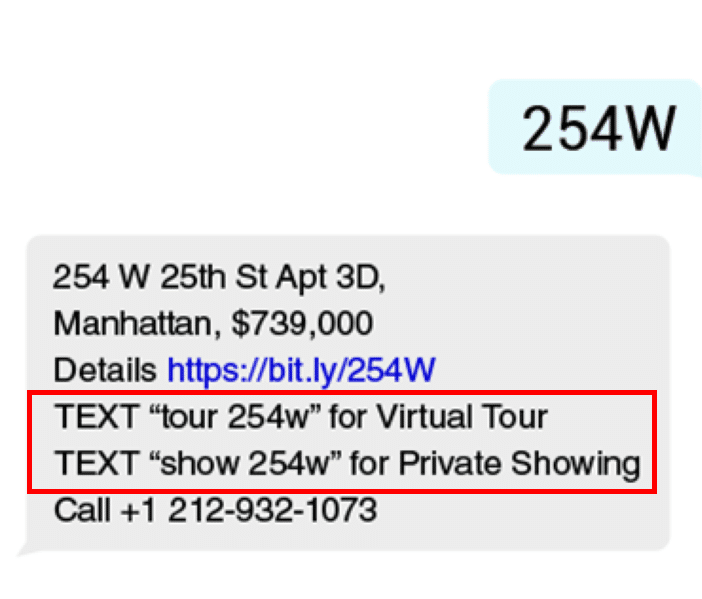 * Free Image Hosting and Sharing Service
Free hosting sites offer a secure way to save your photos at no cost. You can share them easily with potential clients. For example: Wix. Google Photos, Imgur. ,Flickr, 500px, ImgBox, Dropbox, Free Image Sharing, PostImage, ImageShack
 ** 3D Virtual Tour
Find the best Virtual Tour Apps for Android. Read Buyers Guide to learn what to look for in Virtual Tour Software.
*** Real Estate Showing Platform
Video call technology is one way to host online open houses and showings. Examples: FaceTime, Facebook Messenger, Zoom, WhatsApp, Skype, Google Hangouts, And more
Answer Standard Repetitive Questions
Auto Reply to common Buyers / Sellers Questions, such as
Property Details
Link for an In-Depth Tour of the Property
Scheduled Showing
Property Profile, Size and Price
etc
A lot particular questions could be addressed through the preset auto replies, for example
How is the escrow amount determined?
Where does escrow sit?
What is a typical escrow percentage?
Whether this escrow amount goes toward the down payment?
When is the final walk-through?
Closing costs?
What to expect on closing day?
When to contact utilities?
When can cleaners and movers arrive?
Is a locksmith required?
and so on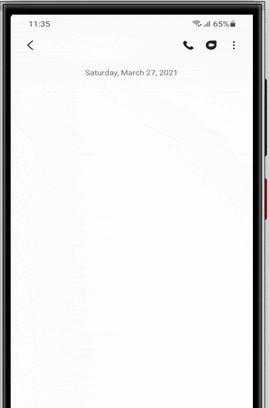 AUTO REPLY MESSAGES TRIGGERED BY KEYWORDS WORKS FOR YOU 24/7
The Power of Real Estate Text Marketing
Keyword based Real Estate SMS Marketing Autoresponder App is a proven solution to GENERATE LEADS for REAL ESTATE MARKET!
People want information right away when it is relevant to their current activity and texting is the preferred way to get that information.
Because of the Relevance of Information that arrives exactly when the user is planning to buy a product or service, Conversion Rates Are Higher than with proactive marketing
Get Competitive Advantage over Other Realtors
Auto Reply Messages triggered by keywords are Opened and Read Instantly!
Compare Open / Read Rates of different Communication Channels
Text Auto Replies Read– up to 100%
Emails – 22%
LinkedIn Posts – 20%
Instagram Posts – 19%
Tweets – 4%
Facebook Posts-   3%
Links within Text Messages Clicked Through up to 90%
Keyword based SMS Marketing Autoresponder App is perfect for Real Estate Agents and Agencies
Communicating with customers and potential clients is a main component of the realtor's everyday routine; including calls, texts, emails, and meetings
Real Estate Text Message Marketing is critical to
Generate leads – attract potential clients,
See and show properties,
Coordinate sales,
Close deals,
And much more
Real estate agent's main goal is CONVERTING LEADS INTO CLIENTS, but Answering Same Questions Repeatedly can be difficult and time-consuming especially when you're always on the go from one meeting to another, from showing property to scheduled appointment and open house event.
Keyword based Real Estate Text Marketing Autoresponder App helps you focus on the first priority matters that must to be done right now in order to close a hot deals
Focus on crucial parts of your daily routine and give an app be your secretary and let it work for you 24/7!
You can even use Google Voice Free virtual Number as a second work number and make your Keyword based Autoresponder reply to Google Voice Number while you are communicating through your main number with client who prefer an in-depth phone call.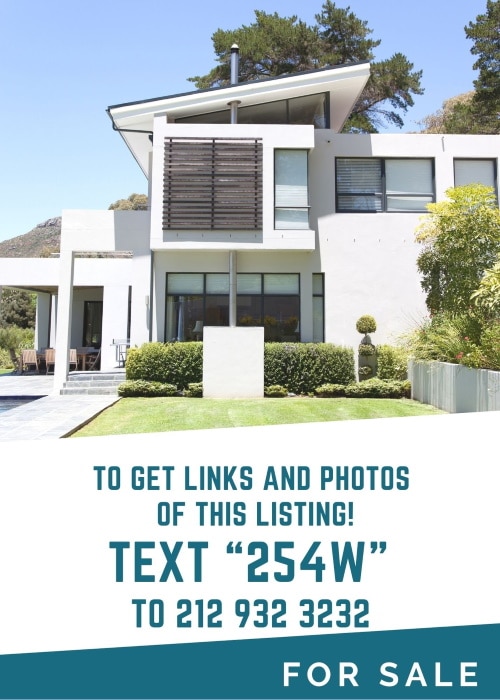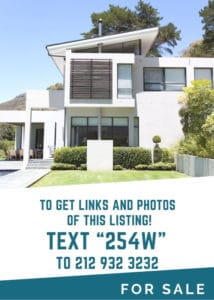 WITH OUR APPS, YOU NEVER HAVE TO MISS AN OPPORTUNITY TO SECURE LEADS!
Automatic Responses for Missed Calls and Incoming Texts for Real Estate Professionals
Here is a sample of automatic response for Property Request – Out-of-Office Messages for Real Estate Agents that let your leads know you get their request and you'll be in touch soon:
Could be set within Missed Calls, SMS Auto Reply App
For Example
You can add to your reply
Real Estate Agent Introduction Postcards
Quick Home Appraisal Postcard
Property Flyer
Realtor Introduction Flyer
Realtor Marketing Flyer
Agent Profile
A Real Estate Agent Flyer
Real Estate Listings Flyer
By sending auto replies
1) You are confirm you've received customer's request, and will treat it as soon as you can (prevent ignorance feeling)
2) Automatically provide different property info and "auto prepare" potential customer to your phone call