Product Description
Best SMS Auto Reply App (Automatic Text App) for Android
Tired of receiving Calls / Texts / SMS / Signal, Telegram, Facebook, WhatsApp, etc. messages while you're on vacation or out of the office for personal matters? Do you want to enjoy your holiday without getting disturbed all the time?
Easily set Auto SMS Reply Messages on your cell phone for any occasion, and don't be disturbed any more when you're busy or away.
How to Download, Install and Activate SMS Auto Reply app
To auto reply to missed calls and incoming SMS you can choose between an elaborated automatic text message or simply a short auto reply text android answer – as short as "text me later".
In addition to the general automatic text reply, you can auto reply with private automatic text messages or, on the contrary, block sms messages from certain contacts.
NEW IN LAST VERSION
* Added Auto Reply to Google Chat communication service for teams and business environments
* Added Auto Reply to Microsoft Teams business communication platform

Selected Features of Text Auto Reply App
Setup multiple auto replies
Customize automatic text reply
Respond with Personalized Message
Reply Only to Personalized List
Don't Auto Reply list
Reply only to Contacts
Reply only to Non-contacts
Set Ringer Mode to Silent
Recurring Auto Reply Texts
More Automatic Reply Text Features
Response by Time, Weekdays, Dates
Report of Sent Text Messages
Turn default status on/off manually
Auto-reply to WhatsApp messages
Respond to Facebook messages
Smart Drive Mode, Smart Bike Mode for No-mobile-driving
Automatically turn Auto Reply ON, when your phone connects to your car via Bluetooth. Never forget to turn auto reply on! Drive Safe and Save Life!
 Do not use your phone while driving – Stop Distracted Driving
Our app allowing you to listen and reply to text messages hands-free! Respond to text messages without even touching your phone. Ensure minimum distraction while riding a bike or any other two-wheeler.  Automatically replies to missed calls with pre-written text message. The Phone is silent and doesn't ring until you got an URGENT CALL from contact on Emergency List
SMS Auto Reply app helps you focus on driving manage your messages while driving.
Smart Drive Mode Features
Automatically launch and close with Bluetooth pairing
Automatically launch when you start driving
TTS – Text to Speech Service
Read out Incoming Messages Aloud
Read the sender name.
Read the incoming message from WhatsApp, Signal, Facebook, Telegram + more
Read Incoming Messages without Automatic Reply Text
Customize automated text messages
Safer driving experience.
CLICK to Review Detailed App Tutorials for Auto Reply Text App

How to Respond To a Missed Call with Auto Reply Text App
Sending automatic text message as Simple as 1-2-3
ADD your own Auto Reply message or Edit an existing one.
SET TIME – choose the appropriate SMS Auto Reply from the list and set time to activate it or run it manually.
TURN ON – on the "Auto Replies" screen choose the appropriate automatic text message from the list and turn it on
How to Add (Configure) Auto Reply Text for Missed Calls and Incoming SMS

5 Simple Steps to set Automatic  Text Reply
Add your own SMS Auto Reply message (press "+" icon and give it a name) or Edit an existing automatic text reply.
Add your automatic reply message
Add contacts or phone numbers to "Emergency List ", "Do not reply" and "Personalized" lists.
Emergency List: A list of people whose phone calls you want to receive any way.
Personalized List: a list of people whom you want to reply with personal automatic reply text.
Don't Reply List: – a list of phone numbers you don't want to auto reply to
Chose auto reply channel (reply to missed calls, texts, google voice number or social messengers
Tap Save button
How to Set Time for Automatic Reply Text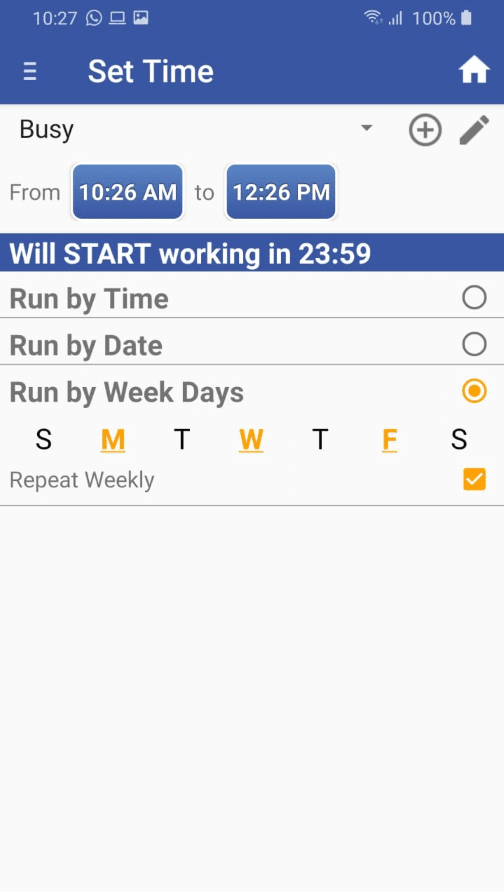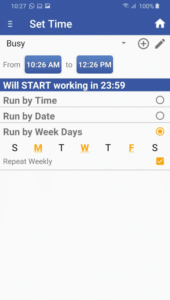 Choose an appropriate Auto Reply from the list.
Run automatic text message by Time, once you need it today
Run auto Reply by Time + Week Days, once you need it at the certain period on the workdays or on weekend.
Run auto Reply by Time + Date, once you on vacation. Holidays etc.
On the Auto Replies Screen, you can also run auto reply manually without defining time.
Turning Auto Reply ON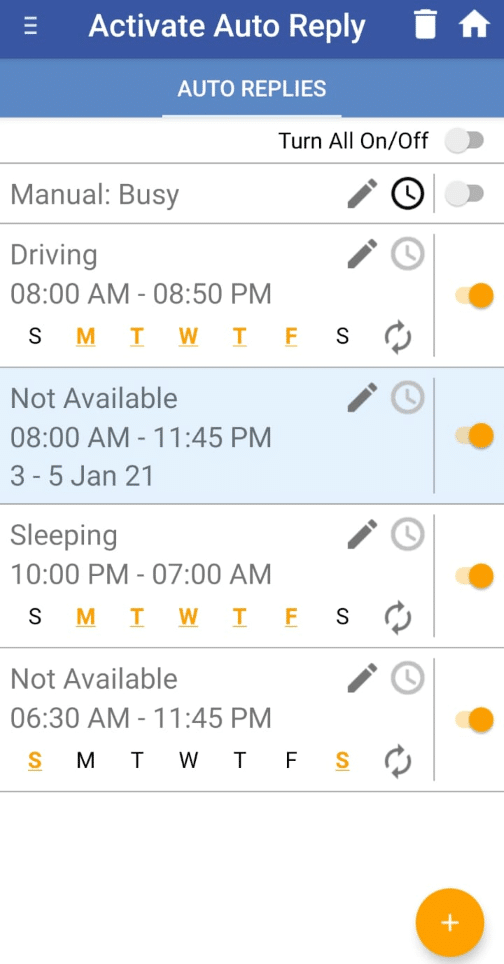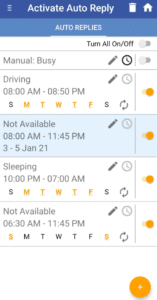 Choose the appropriate Auto Reply from the list and TURN it ON, using the button to the right of auto reply
A button changes to dark blue once automatic text message is turned on. Now, it is waiting to the set time, in order to start running
Once Text Auto Reply is start running, background changes to dark blue
SETTINGS: (this is just a partial list of available settings for automatic text app)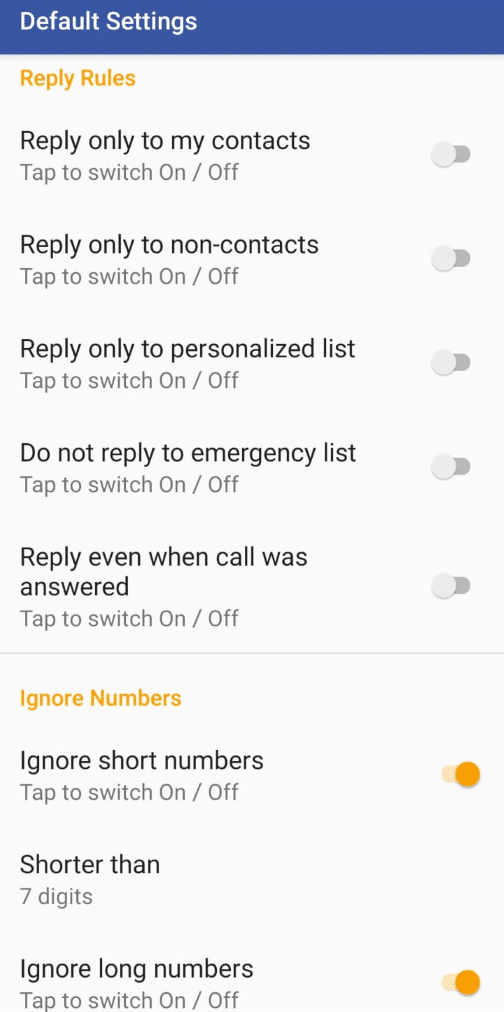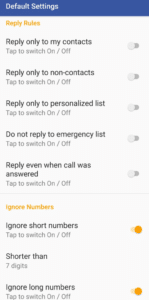 Sent only one automatic text message to the same phone number, when sms autoresponder is ON
Set delay for Auto Reply Text to second message from the same phone number.
Reply ONLY to your CONTACTS, NON-CONTACTS, or both
Reply only to personalized list
Auto Reply Text to WhatsApp Groups
Read out incoming messages aloud when they arrive
Reading speed
Read incoming messages without automatic reply text
Automatic Text Messages Report

To see the status of a messages delivery, press Menu and choose "Sent Messages Report".
In every entry of the report specified real date and time of sending and status of the operation
Press on the Entry to see detailed reports with recipients name or phone number
Why You Should Use Effective Bundle of SMS / Missed Call Auto Reply App with Keyword based Marketing Autoresponder
Sms marketing is the most recent and tested sure-fire marketing media for small business like barbers saloons, grocery stores, retail outfits, plumbers, mechanics, etc. There are many great reasons why you need to use sms marketing, sms auto reply apps.
If you are in the USA

Text "DEMO" to +1 (774) 295-0837″

and Get experience of How Keyword based Autoresponder Could Work for You and Your Business!