Calls / SMS Auto Reply FAQ
Also, you can explore App' Tutorials
How to Install Android App from Website
To install an app from the wesite, you must opt-in for installing unknown apps.
Opt-in for installing unknown apps
Android blocks unknown installs until you opts into allowing the installation of apps from other sources. The opt-in process depends on the version of Android running on your device:
On devices running Android 8.0 (API level 26) and higher, you must navigate to the Install unknown apps system settings screen to enable app installations from a particular location
On devices running Android 7.1.1 (API level 25) and lower, you should enable the Unknown sources system setting, found in Settings > Security.
Note: When you attempt to install an unknown app on a device running Android 7.1.1 (API level 25) or lower, the system sometimes shows a dialog that asks you whether you want to allow only one particular unknown app to be installed. You should allow unknown app installation.
In both cases, you need to complete the opt-in process before you can download and install our apps onto your device.
Now that your device is set to properly receive an application , you need to download the application from the web.
Download the APK file through a web browser on the Android device you are using – you should see a notification in the menu bar that will allow you to select for installation.
After the file is loaded and installed, the application should work just as any program would if it was installed from the Google Play store.
How to set up SMS Auto Reply
It's as Simple as 1-2-3
ADD your own Auto Reply message or Edit an existing one.
SET TIME – choose the appropriate Auto Reply from the list and set time to activate it or run it manually.
TURN ON – on the "Auto Replies" screen choose the appropriate Auto Reply from the list and turn it on
How to Add (Configure) SMS Auto Reply
Add your own Auto Reply message (press "+" icon and give it a name) or Edit an existing one.
Add your auto reply message
Add contacts or phone numbers to "Emergency List ", "Do not reply" and "Personalized" lists.
Emergency List: A list of people whose phone calls you want to receive any way.
Personalized List: a list of people whom you want to reply with personal message.
Don't Reply List: – a list of phone numbers you don't want to auto reply to
Chose auto reply channel
Tap Save button
How to Set Time for SMS Auto Reply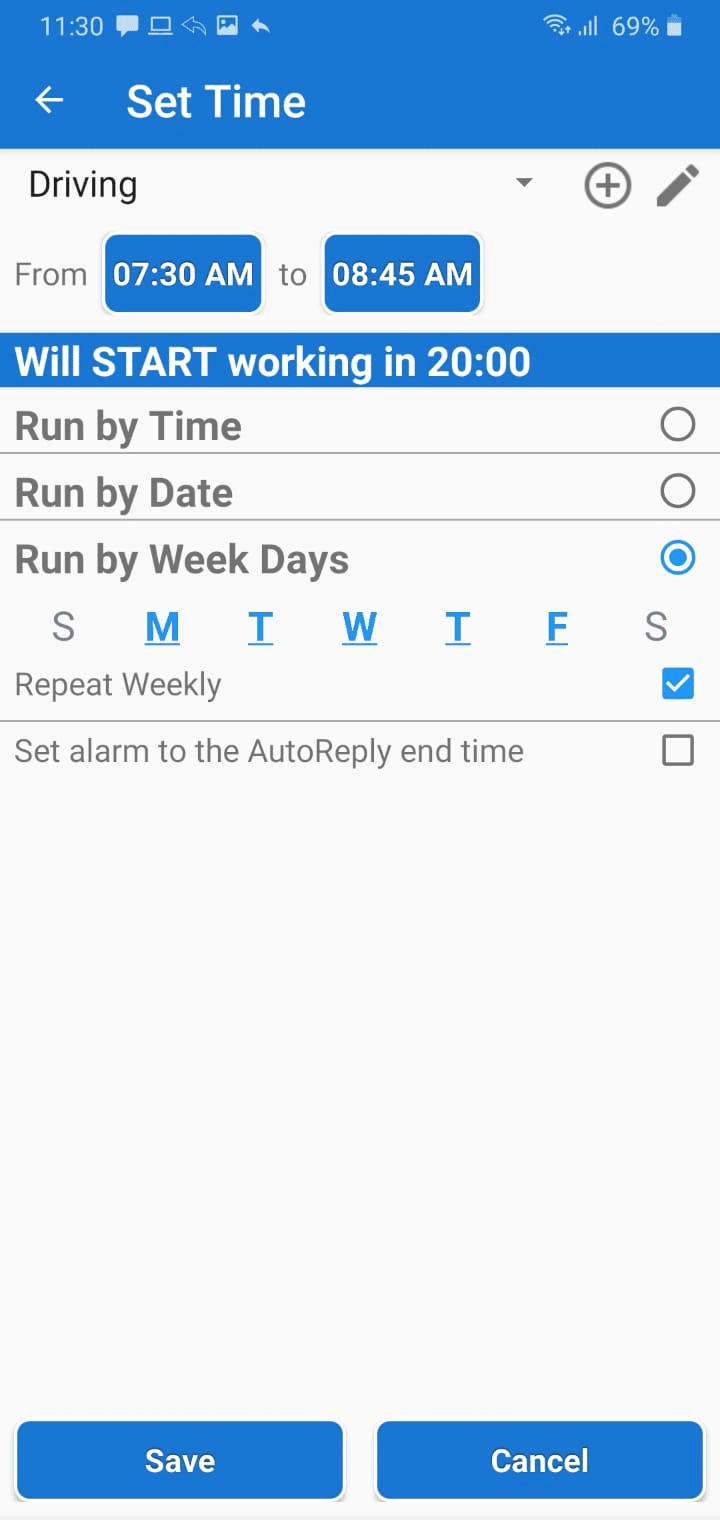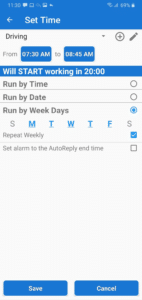 Choose an appropriate Auto Reply from the list.
Run auto Reply by Time, once you need it today
Run auto Reply by Time + Week Days, once you need it at the certain period on the workdays or on weekend.
Run auto Reply by Time + Date, once you on vacation. Holidays etc.
On the Auto Replies Screen, you can also run auto reply manually without defining time.
Turning Auto Reply ON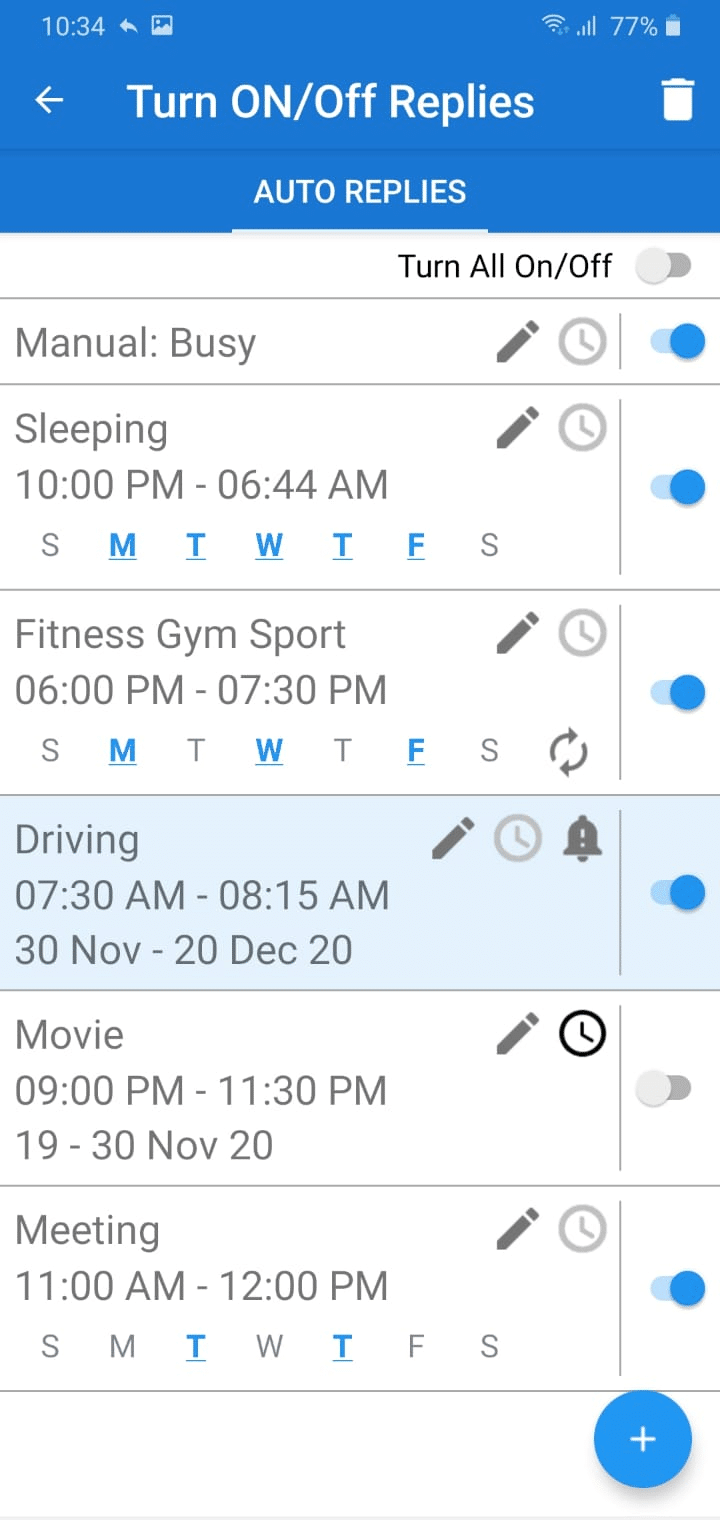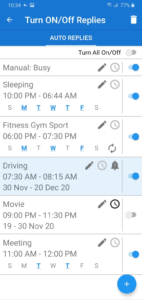 Choose the appropriate Auto Reply from the list and TURN it ON, using the button to the right of auto reply
A button changes to dark blue once auto reply is turned on. Now, it is waiting to the set time, in order to start running
Once Auto Reply is start running, background changes to dark blue
Active vs Waiting Auto Reply
When you turn your auto reply on, to run in the future, it's in a "waiting mode"
– the button right to the auto reply changes its color
– outline arrow icon appears in the notification bar


When you turn auto reply on, to run right now, or it turns into the "active / running mode"
– background of the auto reply changes to light blue
– filled arrow icon appears in the notification bar


the phone is silent (if not set different)
How to Reply only to one contact or group of contacts
Go to app' menu – Add / Edit screen
Choose auto reply
Open "Personalized List" – add contact + personal message for this contact
Go to app settings and set "reply to personalized list only"
This way reply will be sent ONLY to this person
I would like to set different messages for contacts and non-contacts
At the same time could work only one (1) Auto Reply
To reply with different messages to your Contacts and Non-contacts
Create auto reply where all contacts added to the Personalized List as a group and have their own personal message (a group should be created from all contacts)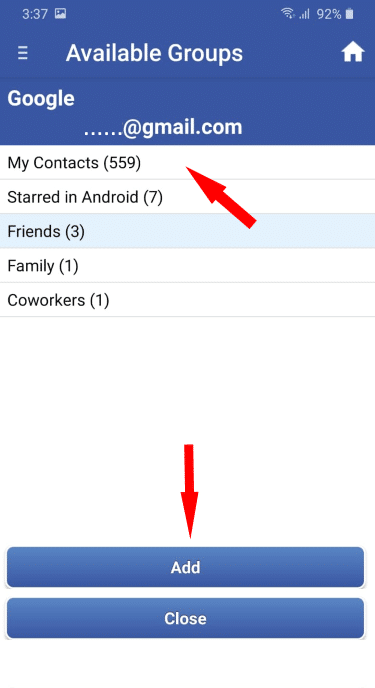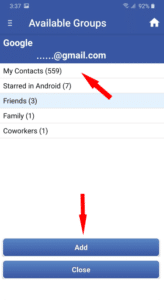 All non- contacts will receive generic message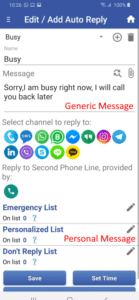 It stops working when profile is active for a long time
To ensure proper background running please:
Check that access to "Do Not Disturb" mode is allowed
Go to Permissions – check that all permissions are given
Go to battery – manage battery usage – set DO NOT OPTIMIZE
Go to data usage – set unrestricted data usage
Additional "risk factors" – third party apps.
Apps that claim to Save Ram
Battery-Saving Apps
Data Savers
Phone Cleaners
Antivirus Apps
The idea behind all these apps that claim to boost your memory/ battery etc is to systematically close apps running in background.
How to send MMS: Attaching Images /Video
Once MMS service is purchased (in your carrier plan), you can attach images/audio files/ video files to your replies on the Add/ Edit Screen
Keep in mind that this will always use the phone's messaging service to send an MMS and in the case of video the size you can send is limited; possibly to less than 300KB.
We recommend changing the camera settings to record lower quality videos which will be smaller.
How to Create Group of Contacts
To create a Group of Contacts, use your Google account:
Click Gmail at the top-left corner of your Gmail page, and then choose Contacts.
Select contacts that you want to add to a group, click the Groups button. Then create new.
Enter the name of the group.
Click OK.
To add contacts to a contact group:
Select the contacts in the Contacts list.
Click the Groups button.
Select the group you'd like to add the contact to, or select Create new to create a new group.
If you have multiple addresses saved for a contact, you can choose which address should belong to the contact group by opening the contact and clicking the small arrow next to the group you'd like to modify.
Once you have done this they will get copied over to your phone if you have synchronization enabled and will appear in your sms auto reply app
How long can SMS message be?
Based on his personal observations and on analysis of the typical lengths of postcard and Telex messages, Hillebrand (The SMS concept developer) argued that 160 characters was sufficient to express most SMS messages succinctly.
Short messages can be encoded using a variety of alphabets: the default GSM 7-bit alphabet, the 8-bit data alphabet, and the 16-bit UCS-2 alphabet. Depending on which alphabet the subscriber has configured in the handset, this leads to the maximum individual short message sizes of
160 7-bit characters,
140 8-bit characters,
70 16-bit characters.
GSM 7-bit alphabet support is mandatory for GSM handsets and network elements, but characters in languages such as Arabic, Chinese, Korean, Japanese, or Cyrillic alphabet languages (e.g., Ukrainian, Serbian, Bulgarian, etc.) must be encoded using the 16-bit UCS-2 character encoding
Multipart or "long SMS" can be sent using multiple SMS messages, 6 to 8 segment messages are the practical maximum. So you can reliably send out up to 1,000 characters in a text. The Android phone will split the SMS message up every 160 characters (especially important if you have a link in your text).
The receiving handset is then responsible for reassembling the message and presenting it to the user as ONE LONG SMS MESSAGE.
Where statistic report was exported?
Statistics reports are stored on your device SD card as a CSV file
You can transfer these files from SD card to your Windows computer.
There are two ways to transfer statistic report( pictures or files) from a SD card to your computer:
First method:
Remove the card from the device and plug it into a memory card reader connected to your computer.
Note: Some memory card readers are installed on a computer, while others are portable and can be plugged into a computer through a USB port.
Windows will recognize the card and offer you some options for transferring the files or pictures on the card to your computer. Select Import pictures and videos to transfer your pictures and videos or select Open device to view files to pick and choose which files to copy to your computer.
Second method:
Leave the card inside the device and connect it to your computer using the connection cable that came with the device. Then, transfer the files from the device to your computer by dragging and dropping the files.
Why it's not free?
Unfortunately, it takes a lot of developer time and money to make, test and keep a full featured app like ours so we can't give it away free of charge. Sorry.
Could you change feature for me?
Please contact us through "Feature Request" within an app menu and we will revisit that feature and see if we can modify to help your need.
Why it doesn't work on my device?
Please contact us through "Bug Report" within an app menu and we will be happy to help with your issues, certain devices have quirks, but we can almost always work around them.
Why your apps do still has some bugs?
Even the world's most successful developers still get bugs in their apps!  Look at  apps (products)from Google, Microsoft, and Apple, and you will find bugs, errors, and even crashes!
Some things are impossible to fully test on development servers, and only real live campaigns reveal everything. We always run our own campaigns for testing apps, but that isn't always perfect.
We apologize for the inconvenience. We know every small interruption causes our customer's revenue losses and we are extremely sensitive to that.
We appreciate your patience and understanding!
Powered by HTML5 Responsive FAQ