Product Description
SMS Keyword Autoresponder App for Text Marketing
Business SMS Marketing Autoresponder is a simple, yet effective Text Message Marketing App for small Businesses and self-employed, that allows customers instantly request service / product information, allows you to send instant, automated text messages with promotional information to customers / potential clients after they've texted a specific keyword to your phone number  + capture customer's mobile numbers for further communication and marketing – reply with deals, price list, link to video, info links, location, etc according to your marketing strategies  (see samples below or read 50 Possible Uses of Auto Reply Text Marketing)
"Info On Demand" Delivery Allow users To Get Immediate Response!
SMS Keyword Autoresponder App for Small Business – 7-days FREE TRIAL

Text Marketing Autoresponder is effective MARKETING AUTOMATION TOOL that helps you
Increase Sales,
Improve Customer Service
Stay Productive
What SMS Marketing Autoresponder Can Send for You
★ Daily Specials – offer deals or daily specials
★ Discounts – customers text to get discount on products or services.
★ Info – SMS Keyword Autoresponder allows customers to request product information via text message marketing
★ Text Marketing Autoresponder auto replies to Property Requests for Real Estate Marketing
★ Website Link, Download Link, Schedule LInk or any other URL, put your business information in the customer's pocket for future reference
★ Directions: – users text to get directions to your business
★ For a car dealership sales representatives or vehicle local distribution – auto reply 24/7 for car info requests
Who Uses Keyword based SMS Marketing Autoresponders?
Different types of businesses use Pull Text Message Marketing – means they do not initiate communication (Push Text Marketing) if user did not request it. But first, autoreply to users request (Pull Text Marketing) and then continue permitted communication.
Keyword based Auto Reply App have literally unlimited use cases. Here you will find just a partial list of possible uses of keyword based business autoresponders. They are very flexible and have very wide variety of possible options for delivering instant information.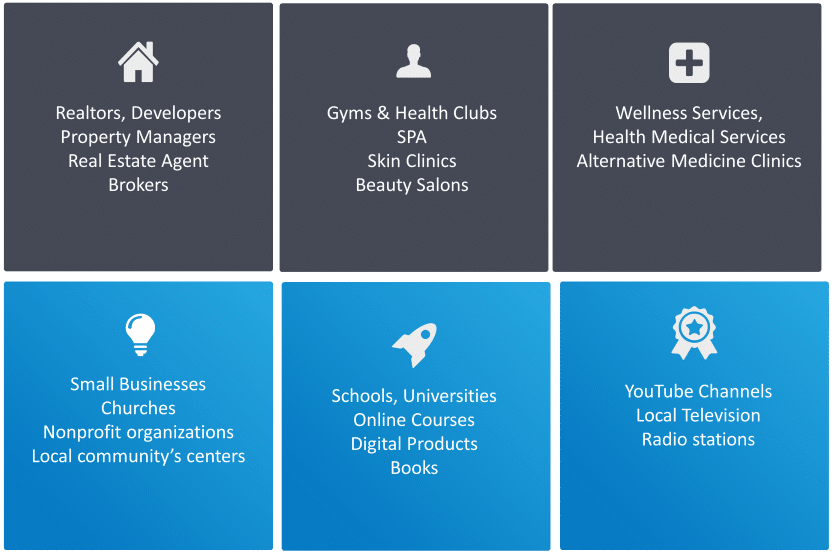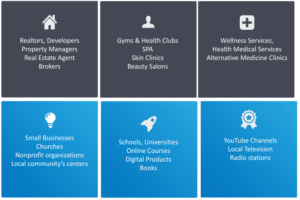 Here is just a partial list of benefits of SMS Keyword Autoresponder
High Open Rates
High Response Rates
High Conversion Rates
Auto Responds to an Inquiries 24/7
Increase Sales
Engage Customers
Improve Customer Service
Improve Productivity
Boost Awareness
Cost-Effective and Affordable
Time Efficient
Text Marketing Examples – SMS Marketing Best Practices
Text Gym to get a list of fitness classes
Text Yoga to get a schedule
Text Pizza to get 20% off, on your next order
Text Property ID to get info from real estate agent
Text Message sent through SMS Marketing Autoresponder app goes viral since people forward them to their friends and family
Where to promote your keywords so that people can text you:
Your website or Blog
Social media – Facebook, Twitter, Instagram, etc
Email Signature
Email newsletters
Business Cards
Within Auto Reply messages to missed calls and Incoming Texts
flyer distribution
leaflet maildrop
billboard advertising
via posters
Office Bulletin Board
Window Stickers
And much more
THE POWER OF TEXT MARKETING AUTORESPONDER FOR REAL ESTATE MARKETING!
Why use SMS Keyword Autoresponder is a MUST in 2021
Mobile-Friendly Business is a Necessity
These days, almost everyone who will potentially "shop at your store" will have a mobile device, and for most of them, it is the only way to  communicate.
Customers want information faster, and even navigating to your website and finding out the information they need, might not be fast enough for them, no matter how easy you make it to find.
Information instantly and on demand
That's exactly what the Text Marketing Autoresponder does and it is The Only Android App  that does it.
Show your customers you are value their time!
Explained Benefits of Keyword Text Marketing Autoresponder
Keyword based Text Message Marketing Autoresponder allows businesses to create and serve on-demand content 24/7 and give customers advances of modern business communication.
It is a simple, unique tool, that REPLACES the previous, well-known but cost prohibitive SHORT CODE SERVICES.
We are all want information right away when it's relevant to our current activity, exactly when we are planning to buy a product or service, so it will take us to get an educated decision.
High Open Rates, Response Rates and Conversion Rates
Text messages do not get lost due to spam filtering or categorization problems, like email sometimes does and the response rate is several times higher than email. The conversion rate for an email-marketing message is around 1.5% while the response rate for SMS is 8.5%.
The System Responds To an Inquiries 24/7
Your business is still able to be "on" even when you aren't, and that doesn't just include evenings and weekends – that also includes holidays, vacation times and more.
Boost Awareness
Any SMS message you are sending out may go viral, since people are sharing (forwarding) interesting info with friends and family. You are sending 1 (one) SMS and putting your brand on a multiple phones.
Text Message Marketing is Cost-Effective and Affordable
It is affordable for any business budget! With the price of keywords starting at just 35 Cents / day (1-year subscription), every business in the world will be able to afford it.
It's Time Efficient
Imagine if 500 customers called your store every day, asking about your hours. You'd never get any work done! All you'd be doing is answering the phone and telling people your hours. Of course, you probably don't get that many phone calls a day asking that particular question.
But if you are like most businesses, you get at least a few, and setting up SMS Marketing Auto Reply for hours, specials or other information that you are asked regularly could free up some serious time and make your business more efficient.
Why You Should Use Effective Bundle of SMS / Call Auto Reply App with Keyword based Marketing Autoresponder
Combining a regular SMS Auto Reply app with a Keyword Based Marketing Autoresponder can dramatically improve your company's communication.
Reply to MISSED CALLS and INCOMING SMS and place at the end of your standard "not available" message, a list of keywords users can send you and get auto reply with requested info
How to Configure Keyword based SMS Marketing AutoResponder

Add your own Auto Reply
Add your own Auto Reply (press "+" icon and give it a name)
Add your auto reply text message marketing
Add keyword to reply to
Chose auto reply channel
Press Set time  or
Tap Save button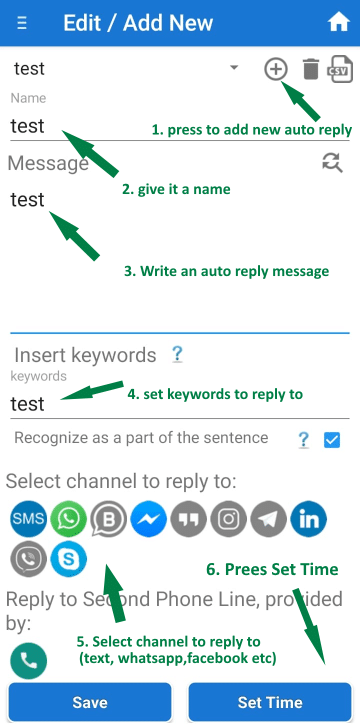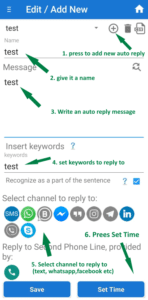 Set Time for SMS Keyword Autoresponder
Choose an appropriate Auto Reply from the list.
Run auto reply manually without defining time if you would like it to run 24/7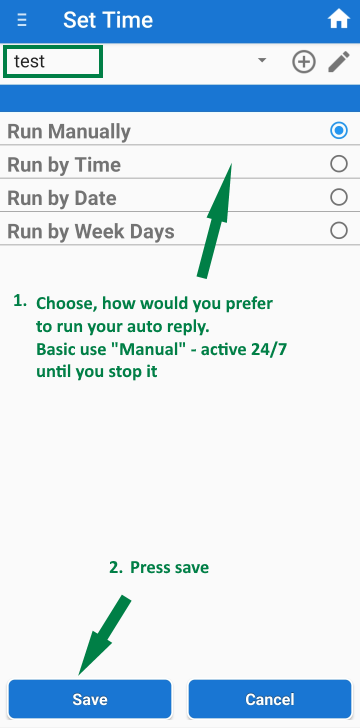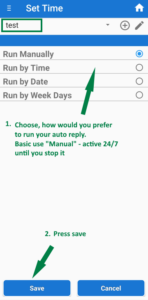 Turning Text Marketing Autoresponder ON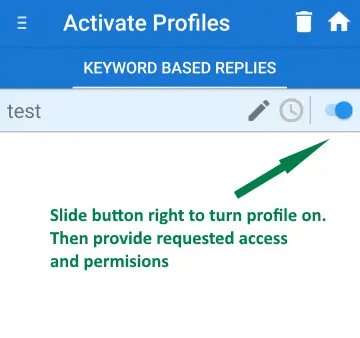 Choose the appropriate Auto Reply from the list and TURN it ON, using the button to the right of auto reply. Once Auto Reply is start running, background changes to dark blue
Reports for Text Message Marketing

To see the status of a messages delivery, press SMS Keyword Autoresponderr Menu and choose "Sent Messages Report".
In every entry of the report specified real date and time of sending and status of the operation
Press on the Entry to see detailed reports with recipients name or phone number
Why You Should Use Effective Bundle of SMS / Call Auto Reply App with SMS Keyword Autoresponderr
Combining a regular SMS Auto Reply app with a SMS Marketing Autoresponder can dramatically improve your company's communication.
Reply to MISSED CALLS and INCOMING SMS and place at the end of your standard "not available" message, a list of keywords users can send you and get auto reply with requested info
Business SMS Marketing Auto Reply is an excellent app for collecting leads. It runs smoothly on my Android device. No bugs and very easy to use.
This is a great app that saves time. It gives automatic replies to customers requests for service and product information. Saves a lot of time because I don't have to manually respond to each customer's request. I love it.