FREE USE OF "SAFETY KEYWORDS" during the COVID-19 Pandemic Crisis.
Set up COVID-19 related Auto Replies, to ensure your customers get the information that matter right now! Information on demand – this is the way customers interact with local businesses nowadays.
Customers Get Relevant Information – Businesses Save Time and Resources
FOR EXAMPLE
Text COVID, to get current regulations related to COVID-19 pandemic
Text SAFETY, to get current safety guidelines
Text MEASURES, to get of review all the safety measures we have in place
Text EMERGENCY, to get a list of emergency supplies
Text MEDIC, to get a recommended list of disinfectant and hygiene items
Reply with a List of Keywords for specific inquiries, customers can choose the topic they need help with and receive automated responses.
Your customers are trying to reach you through multiple channels to find out opening hours, safety measures being taken during the CORONAVIRUS and more.
During the COVID-19 pandemic, self-employed, the small and medium businesses worldwide (from salons, barbershops, to healthcare providers, from gyms and restaurants to car dealerships, vehicle distributors and real estate agents, from schools, colleges, universities  to retail stores) are facing and forced to deal with many complicated COVID-19 related challenges.
Many businesses are impacted by the government's proactive measures to stop the spread of coronavirus and have been forced to adapt to new realities. Therefore, they need constantly update their existing customers and prospective clients with an important information.
Here at LeMi Apps, we decided to lend a helping hand to small businesses all around the world!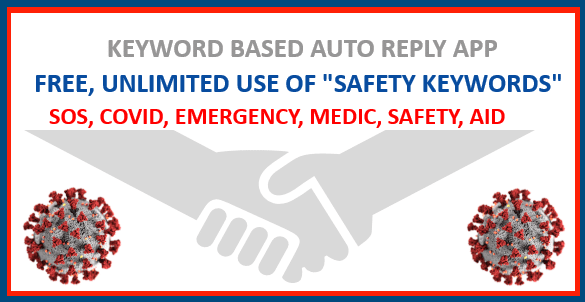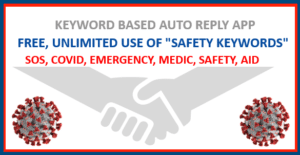 From now, you can download our app and use the following keywords FREE OF CHARGE without purchasing subscription plan.
SOS, COVID, EMERGENCY, MEDIC, SAFETY, AID