In this article, you will find the details about WhatsApp and WhatsApp Business uses, plus abilities of the best WhatsApp Auto Reply App for Android.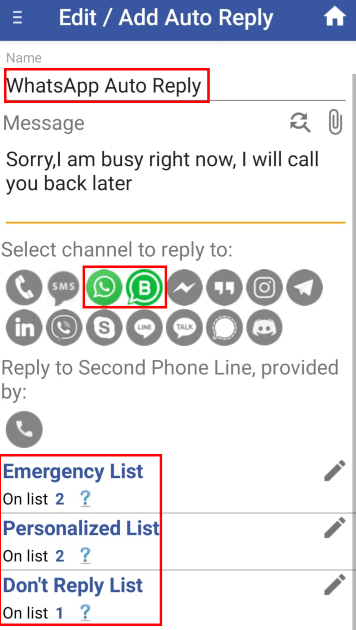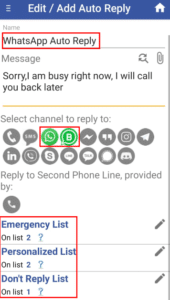 How to Setup Automatic Reply for WhatsApp?
Built-in limited 'Away message' feature
Powerful WhatsApp Auto Reply App
Setting up an automatic reply for WhatsApp
How to Reply To WhatsApp Groups?
WhatsApp Auto Reply Message Samples       
Best WhatsApp Out of Office Messages
Facebook-owned WhatsApp is one of the most popularly used apps for businesses, largely for its voice and video call features that facilitate constant connection with your contacts.
Many businesses (in addition to regular private users) uses the app to share details about their offerings and stay connected with customers. WhatsApp Business for example allows creating a catalogue of products to display to contacts and answering queries potential customers have about the product or service.
Sometimes, you may not be available to respond to these queries on WhatsApp and stand the risk of losing customers. This is where an WhatsApp auto reply system comes to the rescue.
Sending out automated replies to incoming messages on WhatsApp is especially important when you use this app to maintain relationships with clients on a professional level.
Here is how you can set up an WhatsApp Auto Reply and what options are available. We also look at some of the best WhatsApp auto-response message templates and examples to help you implement this effectively.
How to Setup Automatic Reply for WhatsApp?


WhatsApp is a powerful messaging app for private use and small businesses and a great way to stay connected with clients. It's a popular social media app that makes it easy to keep your customers and contacts updated about the latest news and offerings.
It also helps build, maintain and improve customer relationships and provides you a convenient way to resolve customer complaints and queries quickly.
WhatsApp is a powerful mode of communication between businesses and customers. However, sometimes, you may not be available to respond to messages and calls on the platform. Such unavailability can result in frustration and affect your business profile negatively. A good WhatsApp auto reply app avoids such consequences by notifying people about your status and availability.
It is, therefore, desirable for businesses to set up an automated reply for WhatsApp.
Built-in limited 'Away message' feature
WhatsApp Business helps accomplish this with its 'Away message' feature that lets you set up auto-reply messages to inform the contacts about your unavailability. Whenever contacts try to reach you during 'away hours', messages are automatically sent to them as you have scheduled. This might work like an autoresponder for some businesses, but there is an app that provide much better flexibility
Powerful WhatsApp Auto Reply App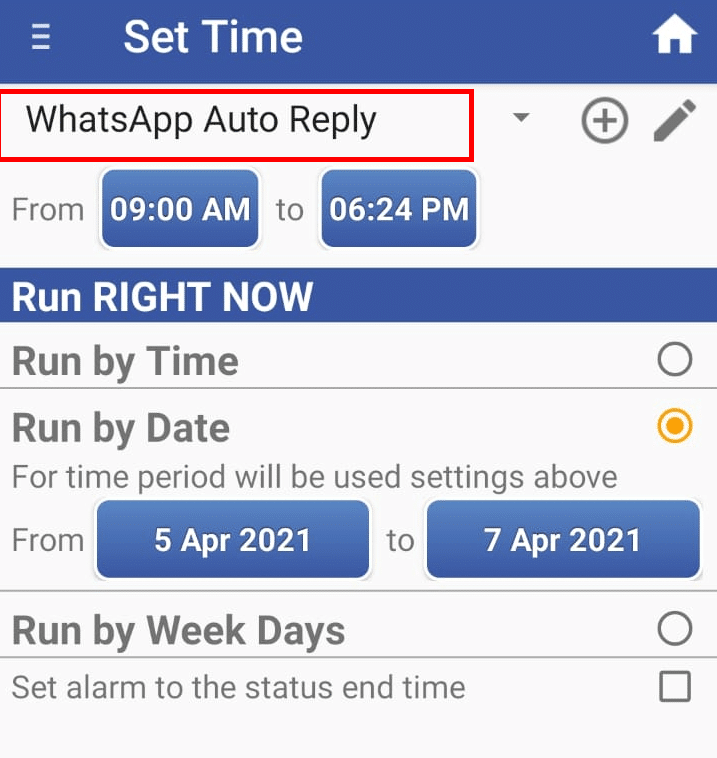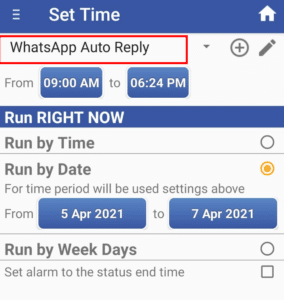 One of the most powerful autoresponder apps is the Auto Reply for WhatsApp, which offers a two-in-one functionality for personal and business purposes. It is an automatic system that sends out messages when
you are busy,
away,
out of office,
driving,
sleeping,
on leave,
on vacation,
or just not willing to respond.
This autoresponder helps you keep your contacts and customers notified without disturbing or distracting you.
A complete Android app lets you create custom replies to send out to your WhatsApp contacts when you are unavailable.
You can automate replies at specific periods of the day or turn them on and off manually.
It also allows setting up customized replies and limit replies to certain contacts.
Setting up an automatic reply for WhatsApp
See Quick Setup of WhatsApp Auto Reply
Setting up an automatic reply for WhatsApp is easy with this app. You simply need to
Download and install the app
Add your auto reply or select from existing ones.
Create 'Do Not Reply' and 'Personalized' lists by adding contacts and phone numbers you want to reply to and avoid replying to.
You can choose reply to WhatsApp or WhatsApp Business or both.
Next, you can select the auto reply option depending on your needs. For an automatic function, you can choose time settings from
Time (if you need once in a day),
Time + Day (if you need once in a day for multiple work days),
Time + Date (when you are on leave or vacation).
You can even choose to run auto reply manually with the radio button next to an automatic reply on the list.
How to Reply To WhatsApp Groups?
Businesses owners may reply to WhatsApp groups for instance with daily updates or specials. It becomes necessary to be available constantly to respond to queries from members of the groups to be able to maintain level of professionalism. However, when you are busy or away, your WhatsApp is likely to flood with incoming messages, frustrating people from the inability to get response on time.
An autoresponder for WhatsApp can save you by automating scheduled replies to groups when you are not available. Auto Reply for WhatsApp for Android is loaded with powerful features that enable you to keep up your presence on WhatsApp groups all the time without disturbing or distracting you in the middle of something more important.
This autoresponder lets you set automatic replies for WhatsApp groups by selecting the most appropriate text from the list or adding a custom message. You can activate the auto reply message from the list manually or set the time to turn it on automatically at the specified time of the day. You can also choose to set the days or dates for vacation.
The most amazing feature of this app is the ability to classify contacts into lists 'Personalized' and 'Don't Reply' where you can add contacts to customize your auto-response for WhatsApp.
The Settings menu lets you apply rules to WhatsApp auto reply, letting you choose to reply
only to contacts,
non-contacts,
WhatsApp groups,
WhatsApp Business groups,
only to personalized lists
and more.
To use the app to send WhatsApp auto reply to groups, you can enable the 'Reply to WhatsApp Groups' setting. Once you activate the option, your selected message is sent out automatically to groups whenever there is an incoming message in the groups.
The app also includes a delay function that waits for a specified time before sending out an auto-response.



WhatsApp Auto Reply Message Samples
Automated replies on WhatsApp, play a significant role in building reliability and trust among customers. Such automatic responses keep you connected with the clients even when you are not working. Receivers feel comfortable and assured seeing auto-responses rather than getting no response from the other side.
WhatsApp auto reply serves as a reason for business success and business owners should consider setting appropriate auto reply messages for different circumstances.
Let us look at some of the most common samples for WhatsApp auto reply messages.
"Hi, Thank you for reaching out! Our support team will check your message and forward it to the best rep. Expect a response within 48 hours. If your concern is urgent, you can call us at [number]. Regards."
"Our apologies, but we're not available at the moment. You can leave your request here and we'll contact you at the earliest."
"Hi, We are closed on weekends. You may write your concern or questions here and we will follow up on Monday. Have a great weekend."
"Hey, We got your message, but we are currently a bit busy making sure everyone is taken care of. A rep will respond ASAP."
You can use some of these samples to create auto replies on WhatsApp for your business.
Third-party apps like WhatsApp Auto Reply App let you choose from ready-made messages for different situations so that you can send out auto-responses with just a tap of a button. Here are some of the most commonly used samples existing on the app.
"I'll call you back. Right now, I'm in a meeting."
"Sorry, I am busy right now. I will call you back later."
"I am not available right now. I will get back to you after I return."
"I am sleeping right now. I will respond as soon as I can."
"I am at the movie now. I will get back to you soon."
"I am driving right now. I'll get back to you as soon as I complete my safe and happy journey."
more
Best WhatsApp Out of Office Messages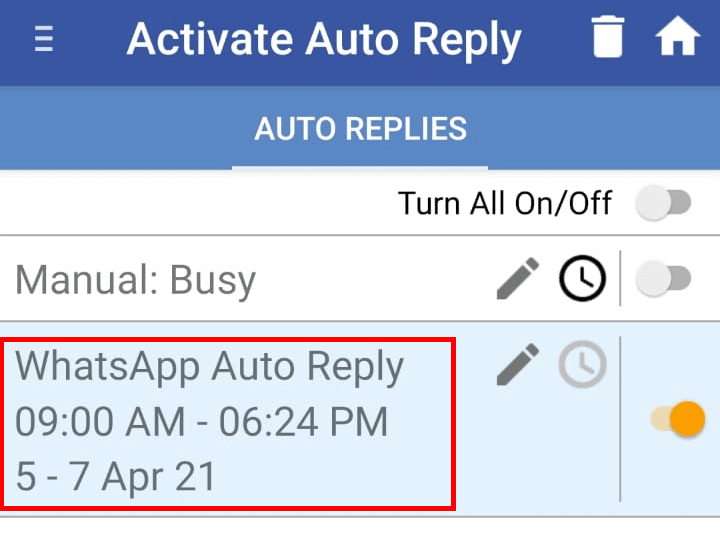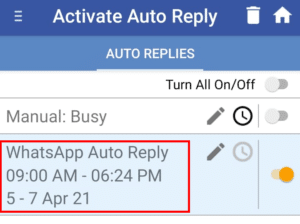 A thoughtful out of office message sent via an autoresponder for WhatsApp is a great way to keep your contacts from getting frustrated and uncomfortable when you are unavailable. Your automated message should be clear and realistic and give the receiver a good idea of what they can expect. The message should suit the situation and provide a meaningful answer.
To create the best WhatsApp out of office message, use a friendly tone that helps strengthen the bond with your customers. Use the right wording to convey the reason for your unavailability, the expected response time and the alternate solution. Here are some of the examples of effective WhatsApp out of office messages.
"Hi, I am enjoying a holiday at the beach and will not be working until the 14th of April. I'll try to get back to you in the work week following that. In case of any emergency, you can contact my colleagues at [phone number]. Best regards."
"Hey there! Thank you for contacting. I am out of the office for a meeting and will not be able to respond at this time. I'll try and get back to you at the earliest."
"I will be away for a vacation from April 4 to April 13. For any urgent concerns, you can call [person] at [number]. Thanks."
These automated messages are quite effective for small businesses, start-ups and personal use. Auto replies on WhatsApp help develop lasting relationships and trust among customers and prevent any confusion or discomfort that could negatively affect your business.