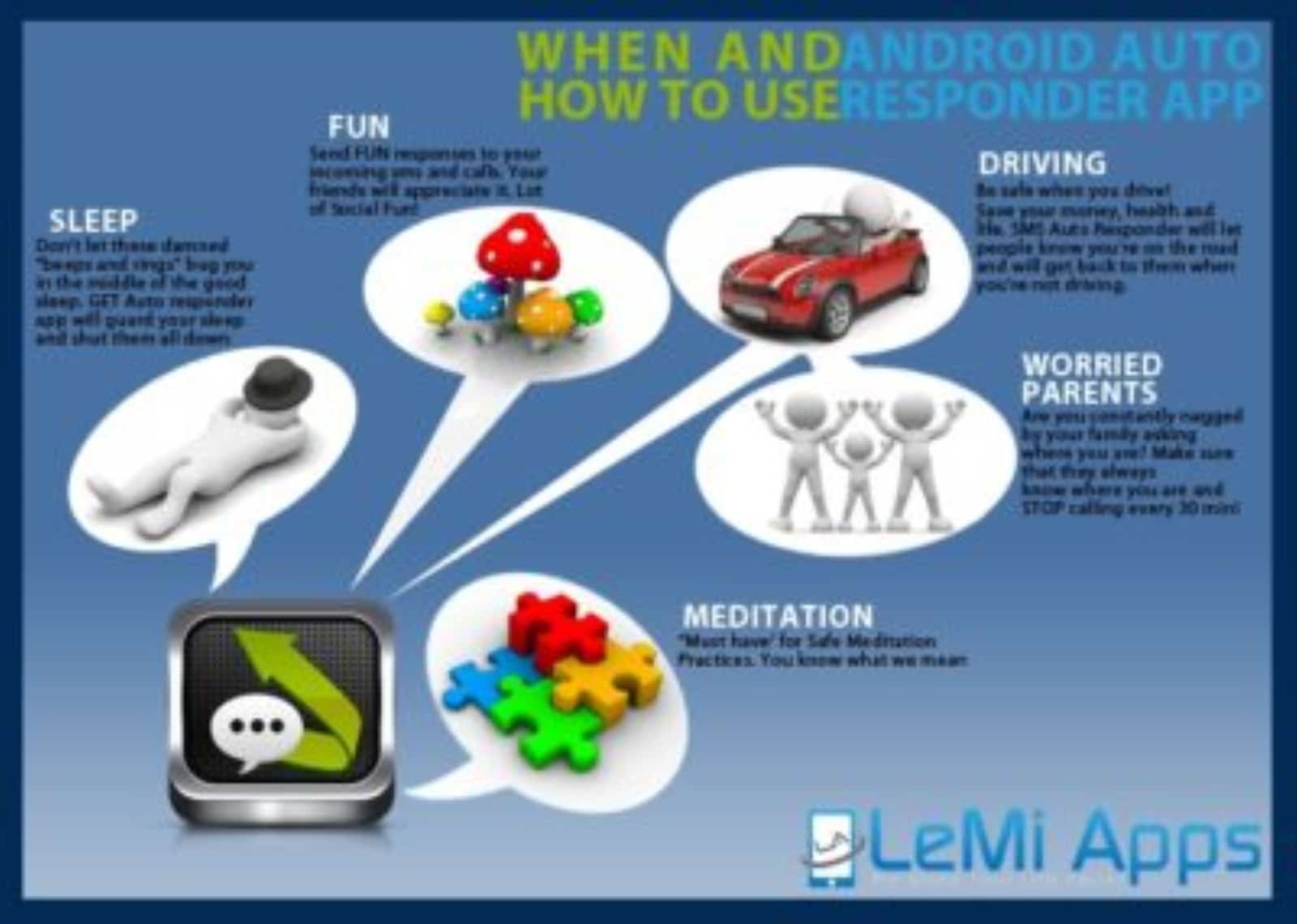 WHEN and HOW to use SMS Android AutoResponder? – Busy? Driving, in a meeting, watching a movie, sleeping, in a school, or just where you would prefer not to be disturbed.
SLEEP with SMS Android AutoResponder
Don't let these damned "beeps and rings" bug you in the middle of the good sleep. Calm your mind and relax (use deep breathing or progressive muscle relaxation), Android SMS Mobile AutoResponder app will guard your sleep and shut them all down (text auto replay -
FUN SMS Mobile AutoResponder
GET fun with Text AutoResponder. Send FUN responses to your incoming sms. Your friends will appreciate it. Lot of Social Fun!
Sample: "Thank you for your sms. Your credit card has been charged $2.99 for the first ten words and $0.39 for each additional word in your message. Thanks"
More samples on our website (link below)
DRIVE with SMS Android AutoResponder
Be safe when you drive! Save your money, health and life. SMS Mobile AutoResponder will let people know you're on the road and will get back to them when you're not driving. Customize a reply message, if you choose.
TOOL to REASSURE WORRIED PARENTS
Are you constantly nagged by your family asking where you are? Are you afraid that they may become worried if you fail to reply? Make sure that they always know where you are (Text auto replies) – and without you even having to lift a finger when they contact you.
MEDITATION
"Must have' for Safe Meditation Practices. You know what we mean – SMS Android Auto Responder!
If any of these have happened to you – then download SMS Text Autoresponder – simple, fast and free – now available on LeMi Apps App Store.
RELATED READING