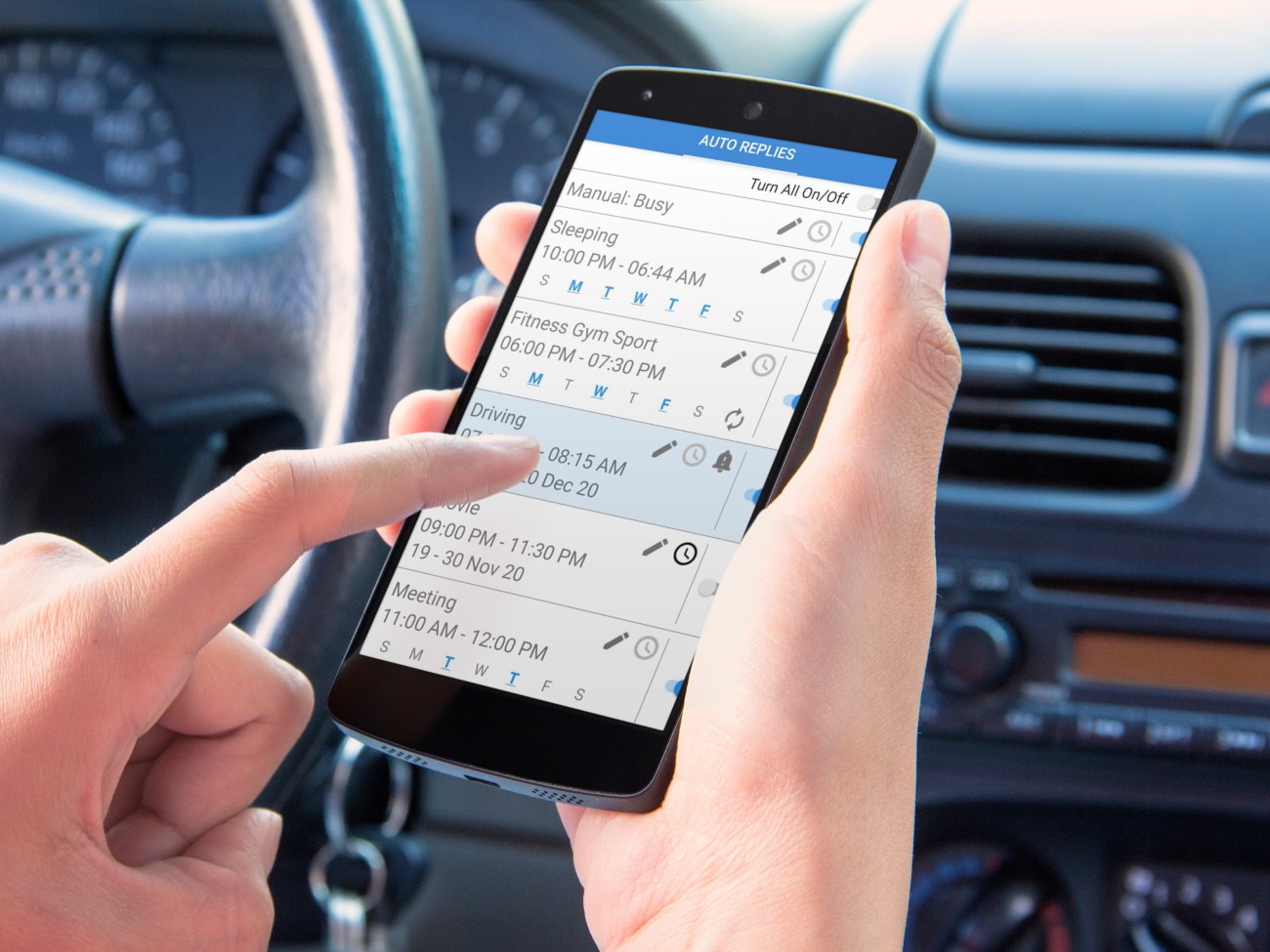 Auto Reply To Text while Driving – Drive Safely and Save Life!
NEW FEATURE: 07 JUNE 2021
Automatically turn Auto Reply ON, when your phone connects to your car via Bluetooth. Never forget auto reply text while driving!
BASIC FEATURES
✔ Automaticaly Turn Auto Reply On when start driving
✔ TTS – Text to speech service for incoming messages – HANDS FREE
• Read out incoming messages aloud\n when they arrive
• Adjust Reading speed
• Read incoming messages without reply
+ 35 more FEATURES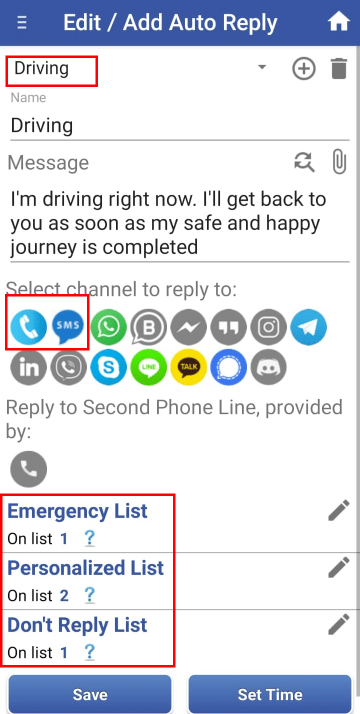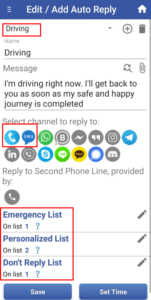 Auto Reply while Driving with text message to incoming texts and missed calls. Drive Safe messages when sent automatically, save your money, health and life. DriveSafely App is a MUST for secure driving! If you really need to attend to incoming messages, TTS – Text to speech service for incoming text messages included and will read them to you, so you don't have to take your eyes off the road. Auto reply to text while driving with drive safely messages
40% of all American teens say they have been in a car when the driver used a cell phone in a way that put people in danger, according to Federal Communications Commission. Text messaging creates a crash risk 23 times worse than driving while not distracted. Texting auto reply significantly lower a crash risks and make your drive safely!
There are 8,000 accidents per day only in the USA due to the loss of focus and concentration, according to the American Automobile Association (AAA).
Texting and Driving is worse than Drinking and Driving. Don't TEXT while Driving!
Use Smart Text Driving Auto Reply App and do not turn off auto reply while driving android feature.
●●●"ON THE ROAD, OFF THE PHONE"●●●
Auto Reply while Driving with Drive safely message – let people know you're on the road and will get back to them once you're not driving. Text and drive without touching your phone. Auto reply with text message while Driving.
✔ Set different drive safely messages – auto replies
✔ Each auto reply has its own settings
✔ Option to set time, week days, repeat weekly
✔ Customize drive safely message: for example "I'm driving, will call you later"
✔ Personalized list – people whom you want to auto reply with personalized drive safe message
✔ Don't Auto Reply list – a list of people whose sms you won't reply to while drivining
✔ Auto reply to sms only of your contacts
✔ Auto reply to sms only of non-contacts
✔ Set ringer mode to silent during safe driving auto response mode
✔ Auto reply when driving only once to the same contact during safe driving auto reply mode
✔ Detailed Report of sent text messages
✔ Info widget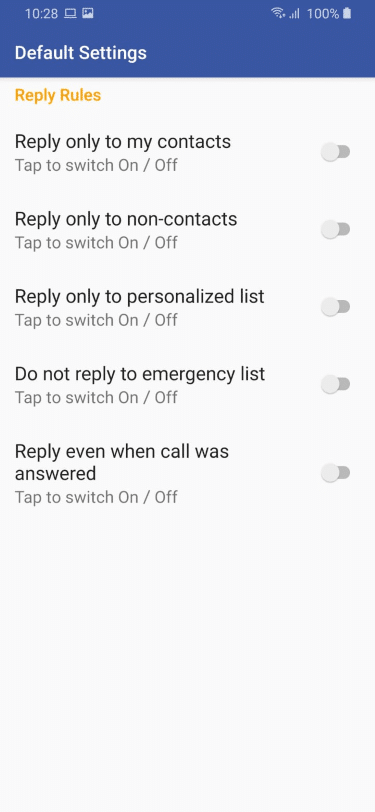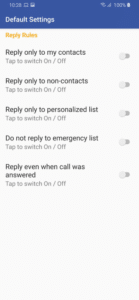 Additional Functionality for Texting Auto Reply App
✔ Auto Reply while driving to WhatsApp messages
✔ Auto Reply to WhatsApp Business messages
✔ Auto Reply to Facebook messages
✔ AutoResponder for Telegram messages
✔ AutoResponder for Instagram messages
✔ AutoResponder for LinkedIn messages
✔ AutoResponder for Viber messages
✔ Auto Reply while Driving for Skype messages
and more texting auto reply customization
✔ Customize drive safely message
✔ You can send automatic reply using WhatsApp native emoji set
I 🚶 out, will 📞you back at 🕒
✔ ADS – FREE
✔ TTS – Text to speech service for incoming messages – android read text messages while driving
✔ Manual status – set default status and turn it on/off manually
✔ One Touch ON / OFF for auto reply while driving
✔ Set an alarm clock with a single touch for the end of the status – will let you know if status ended when you are still driving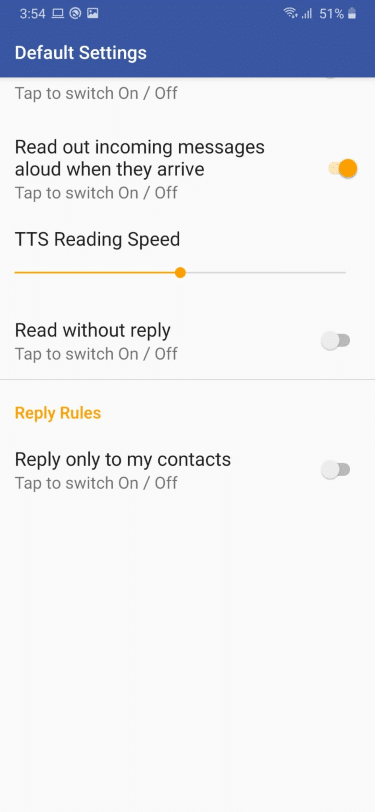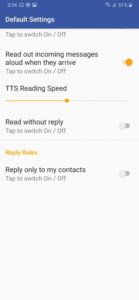 SMS Auto Reply – Auto Reply while Driving with drive safely message to INCOMING TEXTS / SMS / WA MESSAGES / WAB MESSAGES when you are busy, away, in a meeting, in school, on vacation, on leave, out of office, while you are driving, watching a movie, sleeping, or just when you would prefer not to be disturbed.
Tired of receiving TEXTS / SMS / WhatsApp messages  while you're on vacation or out of the office for personal matters? Do you want to enjoy your holiday without getting disturbed all the time? Set easily automatic replies messages on your cell phone for any occasion and don't be disturbed any more when you're busy or away.
DRIVE SAFELY – text android autoresponder will let people know (auto sms them) you're driving and will get back to them.
Safe Drive Save Life!
Listen to SMS, listen to TXT messages. Drive Safely when autoresponder reads text messages aloud and respond by SMS. Android Text to Speech (TTS) will speak your SMS while driving. Hands-free.
RELATED READING