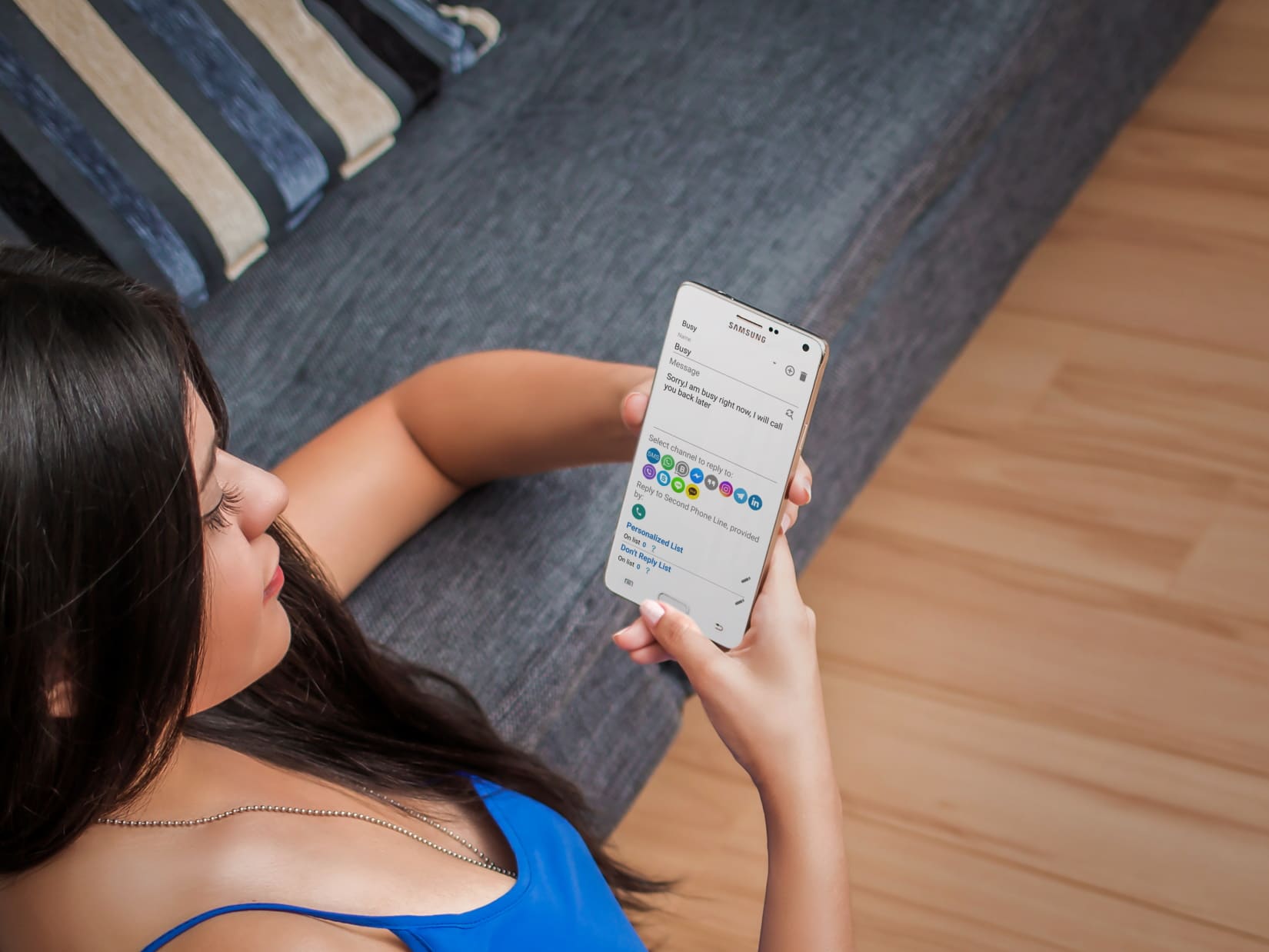 SMS Blocker with Auto Response – SMS Auto Reply Text Message Android App – block SMS and auto reply text message to incoming sms and missed calls once you are busy, driving, in a meeting, watching a movie, sleeping, in a school, or just where you would prefer not to be disturbed. Communicating has never been easier than with the help of sms auto response sent by SMS Autoresponder.
NEW: 07 JUNE 2021
Automatically turn Auto Reply ON, when your phone connects to your car via Bluetooth. Never forget to turn auto reply on! Drive Safe and Save Life!
✔ Setup multiple profiles for sms auto reply text message (one for driving, one for sleeping, one for class etc).
✔ Setup multiple android sms auto reply for missed calls and  incoming SMS – SMS Autoresponder for driving, response for sleeping, automatic Reply Text for class etc.
✔ Recurring auto reply text activated at a specific day and time on a scheduled basis.
✔ Option to set time, week days, repeat weekly
✔ Customize a reply message
✔ Personalized list – people whom you want to auto reply with personalized message
✔ Don't Auto Reply list – a list of people whose sms / calls, you won't reply to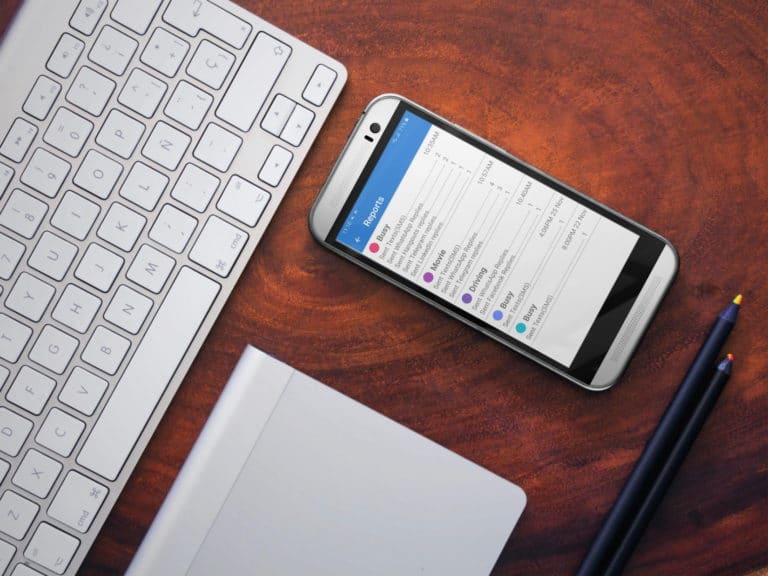 ✔ auto reply to sms only of your contacts
✔ auto reply to sms only of non-contacts
✔ Set ringer mode to silent during sms auto reply mode
✔ Set vibrate mode to silent during sms auto reply mode
✔ Send only one response to the same contact during auto replay mode
✔ Uses virtually no battery power, CPU time and RAM
✔ Widget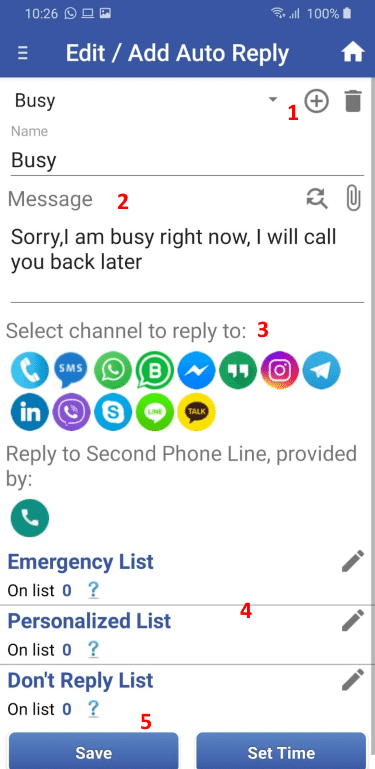 Auto Reply to Social Messengers
Most people have adapted to instant messaging applications like WhatsApp, Facebook, Signal, Telegram and much more. They use them in addition and even instead of the traditional messaging apps. In such cases, the need for sms auto response becomes even more prominent. However, unlike other sms autoresponders , Lemi Apps'  SMS Auto Reply Text Message Android App replies to 12 different social messengers as well as to incoming texts and missed calls. You can say goodbye to the million notifications that come from the different social messengers you probably use and send sms auto response to, for example, unwanted updates from random Whatsapp groups.
✔ Auto Reply to WhatsApp messages
✔ Auto Reply to WhatsApp Business messages
✔ Auto Reply to Facebook messages
✔ AutoResponder for Telegram messages
✔ AutoResponder for Instagram messages
✔ AutoResponder for LinkedIn messages
✔ AutoResponder for Viber messages
✔ AutoResponder for Skype messages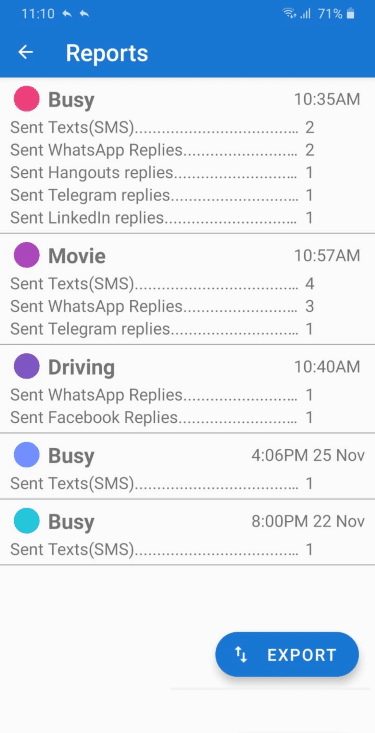 SMS Auto Response to Texts (SMS) Customization
✔ Customize android text auto reply
✔ You can send automatic reply using WhatsApp native emoji set
I 🚶 out, will 📞you back at 🕒
✔ Manual status – set default sms autoresponder to text messages and turn it on/off manually
✔ Personalized list – people whom you want respond with personalized SMS Auto Reply text message
✔ Auto Reply ONLY to personalized list
✔ Don't Auto Reply list – a list of people whose texts / sms, you won't respond to
✔ Send SMS Auto response to texts (sms) only of non-contacts
✔ Set ringer mode to silent during sms autoresponder mode
✔ Auto Reply to Google Hangouts messages
✔ AutoResponder for WhatsApp Groups
✔ Auto reply for WhatsApp Business Groups
✔ AutoResponder for Facebook Groups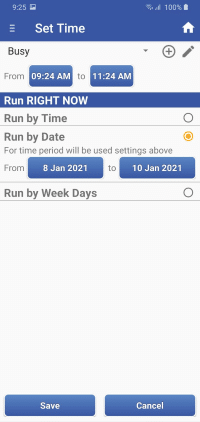 Auto Reply Text Android App Settings
✔ Recurring auto reply text activated at a specific day and time on a scheduled basis.
✔ Option to set time, weekdays, repeat weekly
✔ Send only one response to the same contact during auto replay mode
✔ Archive of sent auto reply text android
✔ Uses virtually no battery power, CPU time and RAM
✔ Set alarm for the end of the status – good for "sleeping" auto reply
✔ TTS – Text to speech service for incoming messages
• Read out incoming messages aloud\n when they arrive
• Adjust Reading speed
• Read incoming messages without reply
✔ Widget – short info + indicator
RELATED READING